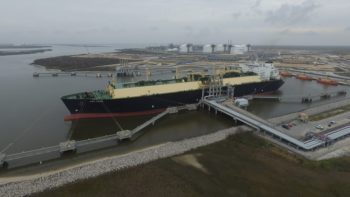 A year after shipping its first cargo of shale gas overseas, the U.S. is looking to do the same for Canada.
Cheniere Energy Inc. said Tuesday that it'll receive supplies from the Montney shale play, which straddles Alberta and British Columbia. It's part of the company's strategy to tap into different supply basins after opening up its landmark LNG export terminal at Sabine Pass in Louisiana a year ago, with another due to start in Texas in 2019.
"We recently entered into our first supply deal to receive Montney gas, on a Henry hub index, from a Canadian producer," Chief Commercial Officer Anatol Feygin said on a conference call, referring to the Louisiana gas price benchmark. He didn't identify the Canadian company.
While several liquefied natural-gas export terminals have been proposed for Canada's West Coast, they've been held up by protests from environmentalists and native groups and it'll be years before any will be up and running. Cheniere is achieving what opponents of Keystone XL wanted to prevent TransCanada Corp. from doing for oil: Bringing resources from Canada that could end up being exported from the U.S.
"This is a great potential outlet for them," Madeline Jowdy, senior director of global gas and LNG at Pira Energy Group in New York, said in a phone interview Tuesday. "The BC LNG projects look like they are going to be a long time coming, if ever, in my opinion."
The U.S. shale gas boom in the past decade has resulted in lower imports of the fuel from Canada. Pipeline flows into the lower 48 states fell 39 percent to 7.38 billion cubic feet a day in November from the record highs seen at the end of 2007, according to the U.S. Energy Information Administration.
"No Canadian gas has ever been exported as LNG," Victoria Zaretskaya, an analyst with the EIA, said by email on Tuesday.
The pipelines serving Sabine Pass get their gas from the Eagle Ford shale play and other parts of Texas and it doesn't appear they're carrying gas all the way from Canada, she said.
Copyright Ships & Ports Ltd. Permission to use quotations from this article is granted subject to appropriate credit given to www.shipsandports.com.ng as the source.