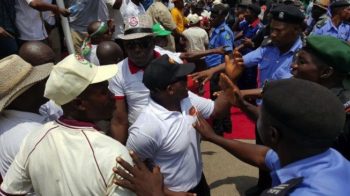 Members of the Nigeria Labour Congress (NLC) yesterday in Abuja at a May Day rally booed and then chased away the Minister of Labour and Productivity, Chris Ngige; the Senate President, Bukola Saraki; and the Speaker of the House of Representatives, Yakubu Dogara, over the non-implementation of a N56,000 minimum wage.
Trouble started when the moderator of the event, which took place at Eagle Square, called on the Permanent Secretary of the Ministry of Labour and Productivity, Mrs. Abiola Bawa, as the representative of Ngige, who was himself representing President Muhammadu Buhari.
The workers, infuriated that the Minister would be represented at an event in which he was physically present, responded in boos, shouting "No! No!! No!!!  We don't want you!"
That response compelled the Minister to climb the podium but the angry mob started singing, "Ole! Ole!! Ole!!!  Minimum wage! Minimum wage!!"
Prevented from making a speech, the Minister left the podium in annoyance and went back to his seat in the state box.  The labour leaders made another effort to re-establish peace, asking the former Edo State Governor, Adams Oshiomhole, himself also a former labour leader, to help pacify the workers.
Oshiomole mounted the podium to appeal to the workers but he was also rebuffed by the workers, who told him to go away as they were not ready to listen to him.
As the situation deteriorated, the visibly angry workers moved up close to the podium and vowed not to allow any dignitary to address them until the N56,000 minimum wage is implemented.
The police subsequently chased the workers from the podium and engaged in a running battled with them, thereby creating a distraction, which enabled the dignitaries in the state box, including Senate President Bukola Saraki and House of Representatives Speaker, Yakubu Dogara, to quickly leave the venue. 
The workers, therefore, undertook a parade in the absence of any government officials and dignitaries.  
Copyright Ships & Ports Ltd. Permission to use quotations from this article is granted subject to appropriate credit given to www.shipsandports.com.ng as the source.