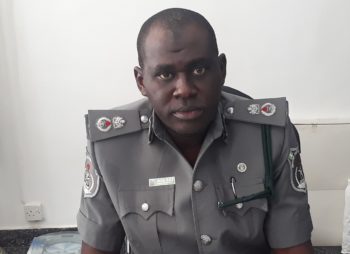 Comptroller, Tin Can Island Port Command of the Nigeria Customs Service, Comptroller Muhammed Musa, has expressed concern over the unfortunate crisis rocking the Association of Nigerian Licensed Customs Agents (ANLCA).
He said the crisis is not only causing concerns within the Nigeria Customs Service because Customs brokers are major partners in the generation and collection of revenue for the government, but that the crisis has deprived Customs of the unity of purpose as regards stakeholders engagement.
Comptroller Musa spoke on Thursday when he received members of the Chapter executives of ANLCA in Zone A led by the Zonal Coordinator, John Ofobike, who paid him a courtesy visit.
The Customs boss, who advised the leadership of the association to resolve their differences and reach an amicable resolution for peace to reign, said, "I am disturbed because ANLCA, an organization registered in 1954, meaning an organization older than Nigeria is having crisis and it is degenerating into going to court. I think it is unfortunate. We have elders and leaders who should have intervened and resolved the issues before it degenerated to the present level.
"We have been jointly contributing so much to the growth of the economy of Nigeria. Imagine the quantum of revenues generated and collected at N4 billion at just five percent with the festering crisis, what would it have been if unity of purpose is forged by ANLCA and court cases withdrawn? That would bring in more revenues for the development of Nigeria."
Responding to one of the challenges raised by the ANLCA executives on multiple examinations of cargoes by Customs officials, the CAC urged the Deputy Controllers in charge of Administration, Revenue and Enforcement to streamline the procedures to eliminate multiple inspections. 
Musa said because of the challenges dilapidated ports access roads are posing to trade facilitation, NCS had come up with a proposal to move cargoes via barges to out-of-port terminals in order to facilitate delivery processes. 
The ANLCA executives had earlier informed the Controller of challenges their members face in the course of clearing goods at the port, part of which include the late resumption of officers to their duty posts and multiple Customs checks, among others.