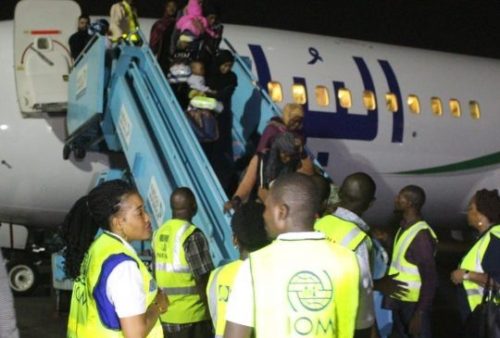 Another batch of 141 repatriated Nigerian migrants including 11 pregnant women arrived Lagos, late Tuesday, aboard a chartered Al-Buraq aircraft from Libya.
The migrants arrived Nigeria with the assistance of the International Organisation for Migration (IOM) and the European Union (EU).
The Chief Planning Officer, National Emergency Management Agency (NEMA), Segun Afolayan, who made this known on Wednesday in Lagos, said the Nigerians arrived at the Cargo Wing of the Murtala Muhammed International Airport Lagos, at about 10.45 p.m.
He said, "After profiling, we have 71 female adults, three female children and three female infants.
"Also, there were 53 male adults, six male children and five male infants; among them were two medical cases and 11 pregnant women."
According to him, majority of the returnees are from Tripoli, the capital of Libya, which has become volatile in recent times.
Afolayan urged the returnees to become more focused in life and not allow the unfortunate experience to negatively impact on their lives.
He said "Truly, you had bad experiences differently, collectively and individually but these should be the motivation for you to make positive decision to see the brighter future ahead of you.
"This is because no one can tell the story more than you and making better use of your lives are essential.
"The Federal Government is urging you to be ambassadors of positive change by taking the anti-irregular migration campaign to those still aspiring to take the dangerous journey.
"You can talk to them in the language they will understand most."