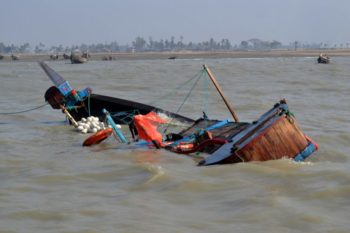 Barely 48 hours after a boat mishap killed 18 persons in Kebbi, another canoe mishap has claimed two lives in Yauri Local Government Area of the State.
Chairman of the local council, Musa Mohammad, confirmed the latest incident in an interview on Friday.
According to the council boss, the canoe left Binua village conveying 11 people to a market in the area when it capsized.
"The village is close to the market; they were going to trade in Yauri when the wave accompanied by strong wind forced the canoe to capsize.
"Two persons, a Fulani woman and an elderly person were feared drowned in the river," Mohammed said.
He however said that the rest of the passengers were rescued after the small canoe capsized.
The chairman blamed the incident on the driver's refusal to heed the warning issued by officials of Nigerian Inland Waterways Authority, not to embark on the journey.
"He was warned by the officials not to embark on the journey because of the unfavourable weather condition, but refused to heed to the advice," he said.
Acting Executive Director, State Emergency Management Agency, Abbas Kamba, also confirmed the incident.
On Wednesday, 18 passengers travelling from Jeribago village in Kebbi to Tuteku village in Niger, died when their wooding boat collided with a tree trunk.