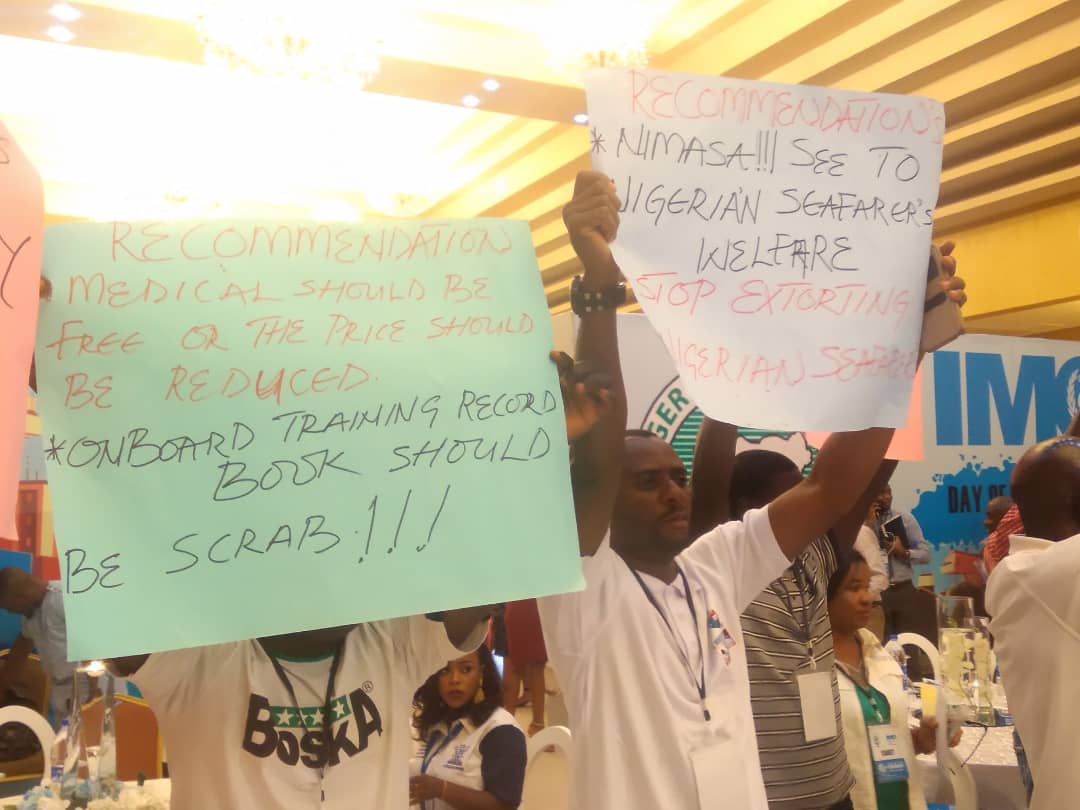 Angry Nigerian seafarers staged a protest at the venue of the 2019 Day of the Seafarer event over poor welfare package and alleged extortion by the Nigerian Maritime Administration and Safety Agency (NIMASA).
The protesters also kicked against the suspension of their by NIMASA.
The protesting seafarers carried placards with inscriptions such as, 'NIMASA see to Nigeria seafarers welfare, stop extorting seafarers', 'NIMASA has turned seafarers to Automated Teller Machine', 'Watchkeeping exams should be monthly, not quarterly,' 'Seafarers training has been suspended, why?,' Seafarers medicals is too high. It should be free or reduced and onboard training record book should be scrapped'.
Speaking on behalf of the group, one of the seafarers, Ayodele Akinshola, said they were being subjected to excessive charges by NIMASA, stating that the introduction of certain policies by the agency is depriving the seafarers of the opportunity to go onboard as at when due.
According to him, "If you want to do endorsement of discharge (book) in the high court, it is just N500 but NIMASA is collecting N3,650 from us.
"We are the grassroot seafarers, the ratings. We are suffering. NIMASA has not been carrying us, the ratings, along. Our welfare and wages is nothing to write home about. It is so low compared to other seafarers internationally. There is also high discrimination onboard between Nigerians and foreigners.
"Apart from that, our medical charges is so high, they collect N30,000 for medical and if you don't get the medical certificate, you can't go on oard, and sometimes after doing the medical, the certificate is not available."
He said NIMASA has also failed to engage the seafarers to know the challenges they are faced with on board ships.