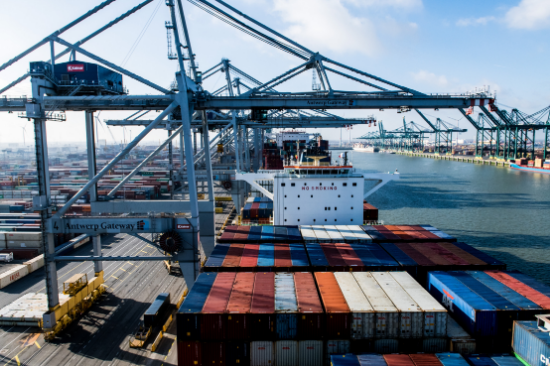 Belgian ports of Antwerp and Zeebrugge announced last week that they will formally merge.
Talks between the municipal authorities of Antwerp and Bruges began in 2018 and unification will put in a position to rival, Europe's largest container hub, Rotterdam.
Last year, the two ports handled a combine 13.8 million TEU out of which Antwerp handled 12 million TEU and Zeebrugge, 1.8 million.
The figures for Rotterdam, which had a throughput of 14.8 million TEU in 2019, have yet to be officially published.
Representatives of Antwerp and Bruges said the merger was "more than a tale of tonnes and TEU".
"The ambition is to become the first world port to reconcile the economy, people and climate. The unification project is based on creating added value for the environment in Antwerp and Zeebrugge for customers and stakeholders, but also for the rest of Flanders. Both ports defined three strategic priorities – sustainable growth, resilience and leadership in the energy and digital transition," the Chairman of Antwerp Port Authority, Annick De Ridder said.
"We are proud of this historic agreement, which seals a long-awaited unification. We are on the way to becoming the global port of Europe, and we are also strengthening our position as the most important container port in tonnes, a strong ro-ro port and one of the largest breakbulk ports in Europe.
"In this way, we become even more attractive for existing customers, for new investors and for all other possible stakeholders, and we are indisputably the economic engine of Flanders.
"The ambition of merging the ports goes even further than tonnes and TEU – we can focus even more on the transition to a low-carbon economy and on the further digitisation of the logistics chain."
The Mayor of Bruges and Chairman of Zeebrugge Port Authority, Dirk De fauw, said, "We look forward to joining forces with the port of Antwerp and thus strengthening our position as the most important gateway to Europe.
"Zeebrugge is the world's largest automotive hub, a leading ro–ro port and an experienced state-of-the-art natural gas hub. By combining our strengths with the qualities of Antwerp, we can do more, and better. We do this in the interest of, and with attention to, our port community, our city and our region."
Under the proposed merger terms, De Ridder will serve as Port of Antwerp-Bruges chair, with De fauw  will serve as vice chair.
Of the remaining seats on the board, two will be allocated to the city of Bruges, five to the city of Antwerp and four independent members will be appointed.
Antwerp Port Authority chief executive, Jacques Vandermeiren has been nominated to be the merged port's CEO.
The deal still needs competition authorities' clearance and is expected to close this year. If it goes ahead, it will represent the second port merger in the region, after the 2018 creation of the North Sea Port, which saw Ghent and Zealand Seaports come together.