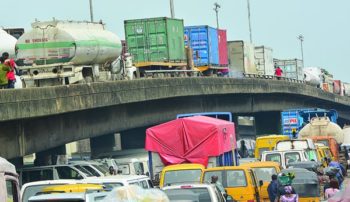 The Chairman, Association of Maritime Truck Owners (AMATO), Chief Remi Ogungbemi, on Monday lamented that the Apapa port access road gridlock was adversely affecting haulage.
Ogungbemi who disclosed this to journalists in Lagos said that many directives by government agencies in controlling the gridlock had not helped the situation.
He noted that the traffic congestion has become a national embarrassment and its solution should be the priority of all port users.
Ogungbemi said, "Apapa traffic has become a perennial problem with no solution in sight.
"We have had orders from the Nigerian Navy, Nigerian Ports Authority, Nigerian Shippers' Council and other agencies, to no avail.
"The trucks are still there for days and weeks; either waiting to be loaded or to drop empty containers.
"My members are the ones at the receiving end; as they waste several man-hours daily.
"Their trucks can no longer make several trips a week as they managed to go only a trip per week."
He added that the situation was affecting the Presidential directive on Ease of Doing Business at ports.
Ogungbemi advised the stakeholders to stop the blame game and come up with a practical template to solve the problem.
He said that the solutions to the traffic problem would be enforcement and attitudinal change on the part of all port users.
According to him, if all agencies and stakeholders at ports can come together and brainstorm, there will be lasting solutions to the traffic problem.