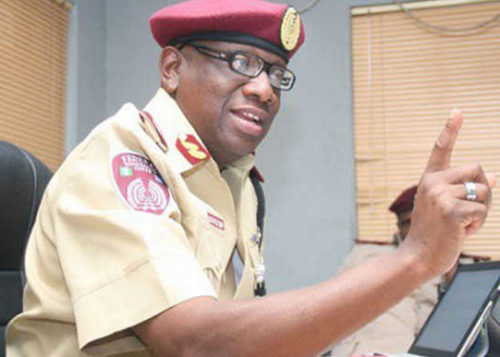 The Federal Road Safety Corp (FRSC) has warned its personnel deployed to manage the Apapa gridlock to shun corruption or be ready to face summary dismissal fro service.  
"Our officers and men are aware of the zero tolerance for corruption in FRSC that they don't have to be involved in bribery and if they are caught, there are no two ways about it because there will be a Federal disciplinary committee that will be set up and if found guilty, it is summary dismissal. 
"That is why we still do surveillance on our own. We don't leave the monitoring to the committee. We have a role to make sure that our men don't take part in any corruption tendencies," FRSC said through its spokesman, Bisi Kazeem, on Thursday. 
Kazeem, who spoke while fielding questions from newsmen shortly after a meeting with other traffic law enforcement agencies in Lagos, said FRSC was working closely with the Lagos State Traffic Management Agency (LASTMA) and other security agencies to clear the Apapa traffic congestion as there are ongoing efforts to ensure that port users and commuters plying the road do not encounter hiccups.
According to him, "We will ensure traffic is moving while work is going on. FRSC as a lead agency for traffic management will work with LASTMA to ensure that traffic control is maintained and not hindered.
"The clearance of the Apapa gridlock is a work in progress. A lot of work has been put in place. The Ministry of Power, Works and Housing is superintending over it to ensure that all relevant agencies especially as it concerns traffic control are mobilized." 
The FRSC spokesman commended the Nigerian Ports Authority (NPA) for setting up the Lilypond truck transit park in Ijora, noting that it would go along way in decongesting the port access road.
"The NPA has played a major role by creating the truck transit parks. The problems have always been with trucks with no job on the road but the new system is that truck not needed at the port are off the roads and when it is their turn, they come to the port and that will help remove the pressure from the road because only fewer trucks and tankers will be plying the road at a time. 
"So the congestion of trucks on the port access roads will be very minimal and no concentration of trucks to cause congestion or to weaken the road by staying days on a particular spot which is not suitable for road users, vehicles and the roads," Kazeem added.