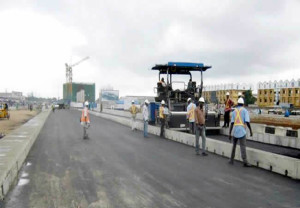 A senior engineer from AG Dangote Construction Company Ltd., has said Section One of the ongoing Apapa Wharf Road project undergoing reconstruction, has been completed.
The engineer told newsmen in Lagos that the section was being cleaned to be opened to traffic tomorrow (Thursday).
"Section One is completed and will be opened to traffic tomorrow. This job is a very careful project and a lot of work has gone into it.
"We are working on Section 2 and we have started placing concrete. On Sections 3 and 4, we are doing earthworks," the engineer who preferred anonymity said.
The Minister of Power, Works and Housing, Babatunde Fashola had on June 17, 2017, signed a N4.34 billion Memorandum of Understanding (MoU) with AG Dangote Construction Company Ltd., and other stakeholders for the reconstruction of the four-kilometre Apapa-Wharf Road.
The road was however closed to traffic to allow for construction on July 7, 2017, after deliberations with various stakeholders.
The project is being funded by AG Dangote Construction Company Ltd., the Nigerian Ports Authority (NPA) and Flour Mills of Nigeria.
The engineer, however, noted that the challenges on the project were "still the same, that of utility relocation on the Right of Way (RoW)".
Newsmen also report that work on the two kilometres of the project under construction had been divided into four sections.
Newsmen who visited the site reports that Section One which is a distance of about 500 metres had been cleaned from rubbles and construction materials.
Crash barriers had been painted with red and white colours to demarcate the entire lane on the Ijora/CMS bound carriageway.
On Section Two of the project which is another distance of about 500 metres, workmen were seen using concrete laying machines to lay cement mix over iron rods on the same carriageway.
Workmen were also seen excavating some portions on Section Three, a distance of about 350 metres.