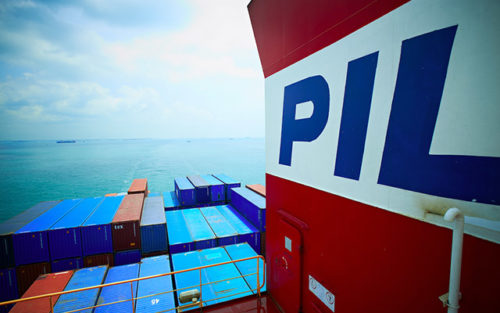 The volume of Pacific International Lines (PIL) containers handled by APM Terminals this year has reached a historic one million TEU (Twenty Equivalent Unit). APM Terminals ranks among the top four container terminals in the world while PIL is one of the largest ship owners in Asia. PIL's volume handled by APM Terminals has grown steadily from 433,000 in 2009 to a projected 1,079,131 in 2013. During an event to commemorate the one millionth TEU; Chief Commercial Officer of APM Terminals Apapa, Mr. Neil Fletcher said: "PIL is using APM Terminals in Africa, Asia and South America. They are a big customer for us in Apapa."
He said the one millionth TEU event is a celebration of successful partnership between the two companies.
"We have solid business relationship with PIL in Africa and we will continue to further expand with them in Africa. We work very closely with them in their Singapore head office and in local offices. We anticipate and understand their needs through excellent working relationship with our relevant departments," Fletcher said, PIL container volume handled by APM Terminals grew by 48 percent in 2010 to 641,000 TEUs and by 24 percent in 2011 to 797,000 TEUs.
In 2012, the trade volume between the two companies grew by 15 percent to 915,000 reaching an unprecedented estimated volume of 1,079,131 TEUs on a 15 percent projected growth rate in 2013.
Speaking shortly after cutting the event's commemorative cake, Managing Director of PIL Nigeria Limited, Mr. Jack Langrishe, said: "PIL has worked closely with APMT since port concessioning. Both Import and Export volumes have grown ahead of the market in both Apapa and WACT, Onne and it is much to the credit of APMT that the investments made have enabled both the market and PIL growth to be absorbed.
"PIL has a very clear focus on growth in West Africa and it is a reflection of the importance of Nigeria in this growth that PIL, Singapore and APMT, The Hague, chose Lagos as the location for this celebration. With the introduction of our WAFMAX ships mid-2014 we hope to be able to celebrate again next year."
APM Terminals offers the global shipping community a geographically balanced, integrated Global Terminal Network which includes current operations at 63 ports and terminal facilities in 40 countries with seven new terminal development projects and 16 expansion programs now underway, along with over 160 Inland Services operations in 47 countries.
Staffed by 20,000 professionals across a total of 68 countries spanning five continents, APM Terminals serves every major trade lane with a truly global presence, providing our customers with the most advanced terminal technology, equipment and operations in the industry.
PIL ranks 14th among top containership operators in the world; offering container liner services and multi-purpose services at over 500 ports/locations in 100 countries worldwide.
Copyright Ships & Ports Ltd. Permission to use quotations from this article is granted subject to appropriate credit given to www.shipsandports.com.ng as the source.