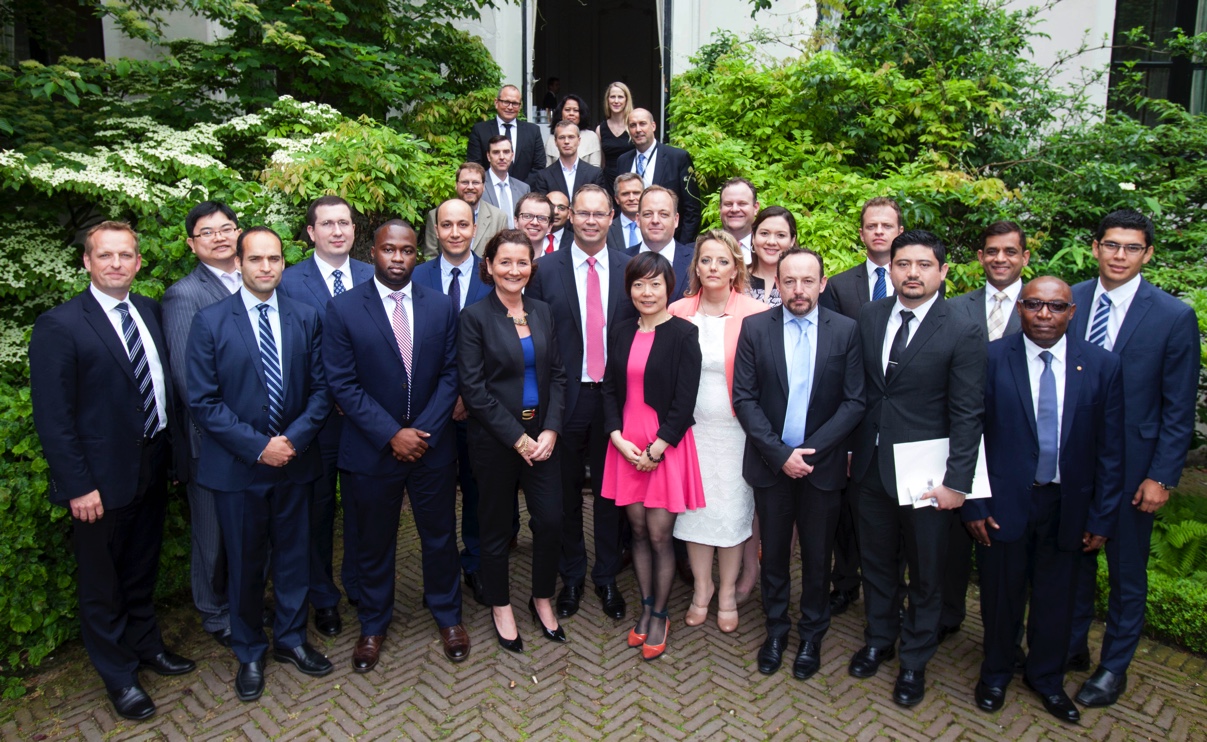 APM Terminals has graduated another 19 competitively selected managers from across the APM Terminals Global Terminal Network from the MAGNUM accelerated leadership training program at a formal ceremony in The Hague. Members of this year's class represented 16 countries in Europe, Latin America, Africa and Asia.
Divided into four modules, specific training segments took place in Switzerland, The Netherlands, Brazil, and a combined session split between Ghana and India.
Participants also took part in specific year-long projects designed to enhance leadership skills and address company management goals.
"We are fortunate to have such talent across our portfolio. Our global, diverse workforce is clearly our competitive advantage. These new MAGNUM graduates will help ensure our leadership development pipeline is geared to the future growth of the company," stated APM Terminals CEO Kim Fejfer, who attended the graduation ceremony and spoke along with the company's senior leadership team.
The results of the project teams' efforts include new programs now being implemented as company policy across the portfolio. One team helped to create the new Trucker Safety Program which will reduce the risk of accidents through new procedures governing the times and places that external truck drivers are permitted to leave their truck cabs while inside a terminal. This program will now be put into effect in all APM Terminals facilities by the end of 2016. Other teams examined collaboration in the selection of port investment projects; the enhancement and expansion of Inland Services operations in Brazil; terminal safety in Monrovia, Liberia; and business development in Vietnam.
"It is such a great pleasure to see our MAGNUM team graduate after 18 months of very intensive leadership development. Their talent, passion and energy in their business projects brought fresh perspectives to important issues port operators now confront in an increasingly competitive environment. The future of the industry is in good hands," added APM Terminals Global Head of Talent Management, Peter Jakobsen.
Marliz Marie Bermudez, Commercial Manager for APM Terminals Mexico and a recent MAGNUM graduate said "The program changes you as a person.  It gives you a strategic mindset and a focus on resilience. You learn new ways to approach business challenges and life situations – and it shows you the impact of collaborative leadership."
The APM Terminals MAGNUM program began when the company was established as an independent business unit in 2000 and is designed to be a long term investment in  leadership development to achieve the company's future growth aspirations in the port industry.
There have been a total of 165 graduates to date with a new class of 19 MAGNUM participants who began their course of study in January 2016.
Copyright Ships & Ports Ltd. Permission to use quotations from this article is granted subject to appropriate credit given to www.shipsandports.com.ng as the source.