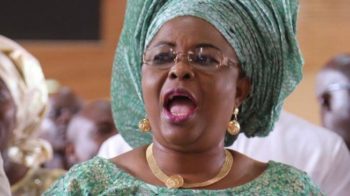 The Court of Appeal, Lagos Division, has fixed July 12 for hearing on the appeal filed by wife of former President Goodluck Jonathan, Patience, seeking to stop the permanent forfeiture of her $5.7 million and N2, 421,953,522.78 to the Federal Government.
The appeal arose from an April 26 order obtained by the Economic and Financial Crimes Commission (EFCC) from the Federal High Court, Lagos, temporarily forfeiting the cash to the government.
The commission told Justice Mojisola Olatoregun, who made the order, that the funds were suspected to be proceeds of unlawful activities.
It said the N5.7million was part of the $6,791,599.64 (about N2.1billion) which  Jonathan allegedly directed her aides to pay into her account between February 8, 2013 and January 30, 2015, while her husband was President.
The ex-First Lady, the EFCC said, had earlier spent $949, 282.98 (about N296, 141,911) from the money.
It said she also withdrew another $100,000 from the account in April, leaving a balance of $5,731,173.55.
Justice Olatoregun also ordered the temporary forfeiture of the N2, 421,953,522.78 found in an Ecobank Nigeria Limited account numbered 2022000760 in the name of La Wari Furniture and Baths Limited.
The commission said the money also belongs to Jonathan.
Justice Olatoregun on May 22 suspended hearing of the EFCC's application seeking permanent forfeiture of the cash pending the appellate court's ruling on the interim order.
She granted the applications of  Jonathan's lawyer, Chief Ifedayo Adedipe (SAN) and that of Counsel for La Wari Furniture and Baths, Chief Mike Ozekhome (SAN), for a stay of proceedings.
Adedipe said he had filed an application for stay of proceedings pending the appeal's determination.
Ozekhome added that once an appeal had been entered, the lower court ought to stay proceedings.
Jonathan, in the notice of appeal, is praying the court to hold that the law cited by the EFCC in its ex-parte application for the temporary forfeiture was inapplicable.
"A judge is bound by the prayers on the motion paper and the court has no jurisdiction to make a case for a party different from that presented by the said party," the appellant said.