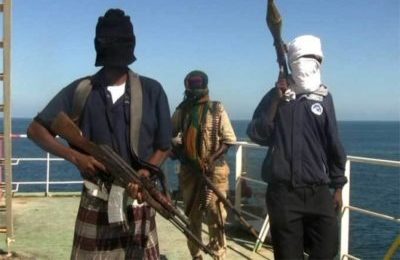 Armed pirates attacked an anchored product tanker off Nigeria on Monday, the International Maritime Bureau (IMB) Piracy Reporting Centre has said.
IMB said four persons armed with automatic weapons in a speedboat approached an unnamed vessel at Bonny River Inner Anchorage, with two of the perpetrators managing to board the tanker and opening fire towards the accommodation.
"After the alarm was raised and PA announcement made, the ship's crew mustered in the citadel.
"The onboard Nigerian naval guards returned fire resulting in the persons retreating into their boat and escaping.
"One guard was injured during the shooting and was given first aid by the crew.
Two security boats responded and approached the tanker. The injured person was transferred to a security boat and taken ashore for medical assistance," the IMB Piracy Reporting Centre said.
No injuries to the remaining crew were reported.
Earlier this month, Nigerian pirates hijacked a merchant ship, robbing the vessel's crew. The unidentified ship was freed in the Gulf of Guinea by a Spanish warship, having been held hostage by pirates for four days.