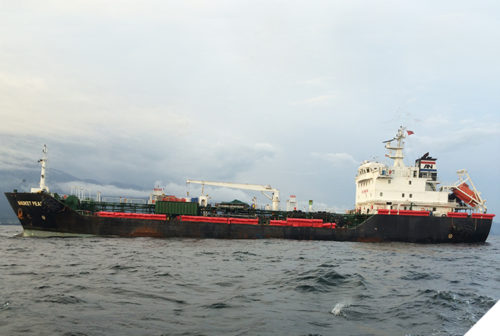 Some armed men have robbed a chemical and oil products tanker at the Takoradi anchorage in Ghana, carting away valuable items from its store, according to security sources. 
The Malta-flagged ship, MT Anuket Pearl, was boarded at the Takoradi anchorage (04:52.86N, 001:41.42W) by the armed robbers at 0236 hours Ghana time on Friday March 29, 2019. 
The Officer On Watch onboard the anchored tanker noticed that the paint room door was open and spotted perpetrators on the forecastle. 
He immediately directed the searchlight towards the perpetrators and sounded the vessel's horn. 
Seeing the alerted crew, the perpetrators reportedly escaped with stolen items from the vessel's stores. 
The Takoradi Port Control was informed and the Takoradi Marine Police boarded the tanker for investigation. 
The 7,277dwt vessel is managed by ABC Maritime AG, Nyon, Switzerland.
The ship was still at the Takoradi anchorage at the time of filing this report.