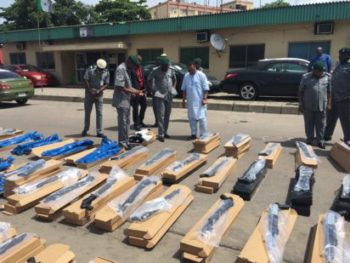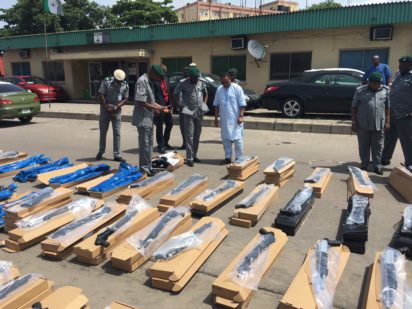 By John Omoaka
Head of Investigation at the Department of State Services (DSS), Wale Odu, yesterday told Justice Ayokunle Faji of a Federal High Court in Lagos that a retired Assistant Comptroller of Customs, Mahmud Hassan, was never tortured while in the custody of the DSS.
He made the disclosure while testifying in a trial-within- trial ordered by the court to determine the voluntariness or otherwise of the statement made by Hassan to the DSS while he was being investigated for allegedly conspiring with five others to illegally import 661 pump-action rifles into the country last year January.
Hassan's lawyer, Yakubu Galadima, had in the course of trial, opposed the tendering of his client's statement as an exhibit by the prosecution on the grounds that it was written under duress.
Justice Faji consequently ordered trial-within-trial to resolve the issue. Testifying in the trial-within- trial yesterday, Odu disclosed that neither he nor his colleagues forced Hassan to make any statement.
He said, "I was directed to investigate the case and I interacted with the second defendant (Hassan). The interaction is always friendly. We did it under a very conducive atmosphere, in an air-conditioned and well furnished room.
"We served him good food. He ate thrice daily, very good and balanced diet. Every medical complaint he had, even headache, was taken care of. There was no form of duress, coercion or pointing of gun at the defendant.
"Hassan explained the role played by him, his company and other defendants in the alleged illegal importation of arms without any form of coercion.
"After the interaction, he volunteered to reduce our interaction to writing.
He was cautioned. The interaction was video recorded."
While cross-examining the witness, Hassan's lawyer, Galadima, insisted that his client was threatened by the DSS.
"I put it to you that the second defendant was always in chains," the lawyer told Odu.
The witness replied, "No. Our interaction with Hassan is always friendly. The issue of being in chain doesn't arise. Under my supervision, the defendant was never chained."
Galadima further alleged, "You threatened to kill the second defendant during the interview."
Odu while denying the allegation, said, "It would be unprofessional to threaten a suspect with a gun. Our investigation is scientific. There is a process. My interaction with him was without any threat."
The witness also said that Hassan could not have been scared by a gun as he had claimed.
"The second defendant was an Assistant Comptroller of Customs. He must have slept, dined and wined with guns," he said.