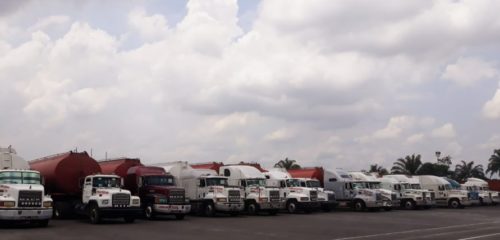 The Nigerian Army 6 Division Port Harcourt has impounded 17 trucks and over 680,000 litres of adulterated diesel, kerosene and black oil.
The Chief of Staff of 6 Division, Brig.-Gen. Sunday Igbinomwahia made this known at the handing over the trucks to the Economic and Financial Crimes Commission (EFCC) on Friday in Port Harcourt.
According to him, the products, if supplied to the public may have led to explosions and possible deaths.
He explained that the trucks and petroleum products were seized after troops raided an abandoned compound formerly used by Union Dicot Salt Company in Port Harcourt.
Igbinomwahia noted that illegal bunkers used the illegal refining facility to store and deliver substandard petroleum products to unsuspecting users.
He said, "The 17 trucks had been in our custody since Oct. 2; it was seized to enable investigators to determine the authenticity of the petroleum products.
"Our investigators after carrying out a thorough preliminary investigation on the matter came to the conclusion that the petroleum products were illegally refined."
Igbinomwanhia said each truck was loaded with about 40,000 litres of adulterated petroleum products awaiting distribution to the public before the seizure.
The officer said the seizure was made by the division's Special Company that was specifically set up to checkmate activities of illegal bunkers in the state.
He said, "We have concluded our preliminary investigation, and as such, the trucks and other exhibits will be handed over to the EFCC for further probe of the case.
"The division is in forefront of fighting criminals who are hell-bent on sabotaging the nation's economy through the illegal bunkering and vandalism of pipelines."
Igbinomwanhia said the division's special task force had so far seized over 300 suspected illicit trucks and vehicles that were currently in different stages of investigation.
Receiving the trucks and products, Head of Asset Forfeiture and Recovery Management Directorate of EFCC, Abdulhamid Bawa, said the commission would conduct a speedy investigation into the matter.