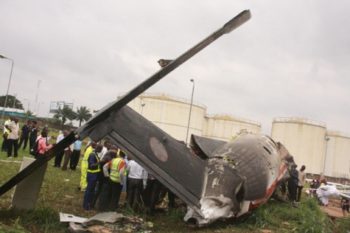 The Accident Investigation Bureau (AIB) has attributed poor coordination between the pilots that operated the ill-fated Associated Aviation aircraft on October 3, 2013, as the cause of the crash.
AIB, while releasing the final accident report said the pilots should have aborted take-off of the aircraft following indications from the aircraft that some components were not properly activated.
Apart from the crew failings, the bureau also fingered poor regulatory oversight duties by the Nigerian Civil Aviation Authority (NCAA) as another causal factor for the crash.
Speaking on Tuesday at a briefing in Lagos, AIB, Commissioner and Chief Executive Officer, Akin Olateru apologized for the delay in the release of the accident's reports saying probe of air accidents is not to indict any agency but to avoid reoccurrence.
Olateru also fingered poor company as part of the cause of the crash.
The Associated Aviation Embraer 120 aircraft with 20 passengers on board was conveying the remains of former Ondo State Governor, Chief Olusegun Agagu for burial in Akure.
Besides, the Associated Aviation crash report, the AIB also released five final reports involving Bristow Helicopters, NCAT trainer aircraft, Westlink Aviation and NAHCO loader and Aero Contractors Aircraft.
Olateru said since January 2017 the AIB, has released 16 accident reports.