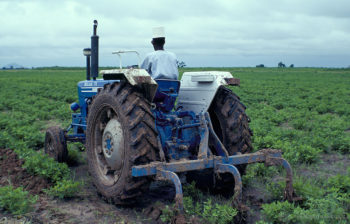 The National Palm Producers Association of Nigeria (NPPAN) on Wednesday applauded Federal Government for stopping import duty waivers on some locally cultivated agricultural products.
Chief Bolarinwa Adetula, the President of the association, gave the commendation in Akure during a courtesy visit to Abayomi Adesanya, the Publicity Secretary of APC in Ondo State.
Adetula said that the gesture would encourage more investments, economic growth, job creation, food security and reduce the demand for foreign exchange.
He appealed to President Buhari to retain his policies on agriculture, especially the import restrictions in order to build a sustainable agricultural base for the nation.
He alleged that some 'cabal of importers', importing substandard agricultural products like congeal palm oil, had been lobbying the National Assembly members to veto the President's ban for their selfish interests.
"Some of these products are dangerous to health, unlike locally refined palm oil. Our palm oil has been rated one of the best in the world with 5% Free Fatty Acid (FFA)," Adetula said.
Responding, the APC Publicity Secretary, said the policy was encouraging people to invest more in agriculture, adding that farmers who had abandoned their farms were now going back.
"The prices and demand for agricultural products are encouraging farmers as they are now being accorded the needed respect and attention unlike in the past,'' he said.
He promised that the incoming government of APC in the state would give more attention to agriculture.
"Ondo State is known for two major agricultural products – cocoa and oil palm.
"Statistics at our disposal show that 70,000 hectares, which is about 250,000 acres, which is about 30 percent of arable land in the state are used for oil palm plantations by both government and private farms.
"This is a huge investment which can take care of unemployment and increase revenue base of the state if properly harnessed by paying and placing necessary attention and priority to them," he said.