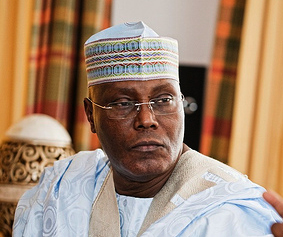 Former Vice President, Atiku Abubakar, said he made his first business move in 1971 by acquiring four pick-up vans under a hire-purchase agreement with a motor distributor company to start a transport business in Lagos.
According to his media office, the former Vice President made the revelation on Thursday night at InterContinental Hotel in Lagos after receiving the Honourary Achiever Award at the Africa's Youth Entrepreneurs Conference and Award titled "A Stand With The Giants."
Dedicating the award, as Honourary African Outstanding Entrepreneur, to Nigerian youth, Abubakar urged the youth to have more drive towards entrepreneurship.
"I came to Lagos on June 29, 1969 and after my two years training (with the Nigeria Customs Service); I was posted to the border station of Idi-Iroko. At that time, the Badagry Road had not been constructed and the only means of transportation to the rest of the West African corridor was through the Idi-Iroko border to what used to be called Dahomey and what is now known as Benin Republic.
"On getting to Idi-Iroko, my first posting, I was not married and what I discovered was that the most promising business was transportation. Many pickup vans were transporting women traders from Ajase (Port Novo) to Lagos every morning, and every evening from Lagos back to Port Novo.
"So I asked myself, how I can seize the opportunity of this moving business. I came over to Lagos and in those days SCOA were the sole distributors of Peugeot, so I went to SCOA and I signed a hire-purchase agreement and bought four of those pickups and gave them to four different drivers and every day they will bring their returns to me and at the end of the month, I will go to SCOA and pay them.
"I wasn't married, so my salary was intact and in addition I was saving from what I was getting from my transport business. So, sometime, to be an entrepreneur you must have the ingenuity to be an entrepreneur."
Abubakar said Nigeria's education system in the early 1960s provided the Nigerian youths opportunities to make diverse carrier choice.
According to the former Vice President, "the educational system we operated in the First Republic provided our students then the opportunity to either go to universities or go to technical colleges or to go to crafts schools. There was never a dropout in that kind of educational system. The dullest was trained on a skill and given the capital to start a business."
He however lamented that "suddenly, Nigeria moved away from that to a system of education where you train only job seekers."
He said the products of this educational system do not know how to do anything else other than to seek for jobs, adding that they cannot self-employ themselves. "So, what I am trying to say is that my Nigeria is possible and your own Nigeria is possible," he said.
The former Vice President urged the youth to take advantage of the rebound in railway infrastructure that was built by the last administration to start a business initiative of transportation of goods across the country and reduce the reliance on heavy duty trucks to convey those goods.
He paid tributes to music art youngster, Wizkid for his besting some of the greatest in the industry to clinch the Best International Act at the MOBO awards.
"Wizkid's international award is a victory for Nigeria. Art is important not only for the revenue it brings and the business around it but for the image of our country. A good image has the capacity to trigger investments. The investments will generate much needed jobs. The jobs will not only ensure the security of families but the security of our nation and engender progress and development," he said. 
Copyright Ships & Ports Ltd. Permission to use quotations from this article is granted subject to appropriate credit given to www.shipsandports.com.ng as the source.