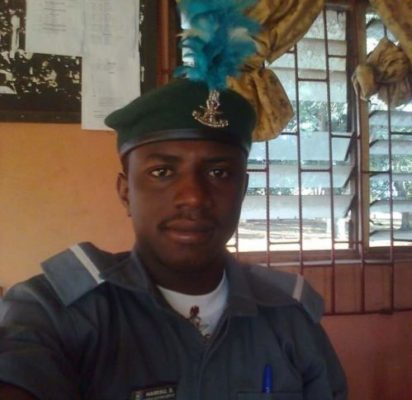 Shulammite 'Foyeku, in this report, reviews recent attacks on officials of the Ogun Area Command of Nigeria Customs Service by suspected smugglers.
Just few days into the New Year, precisely January on 6, 2019, the Ogun Area Command of the Nigeria Customs Service (NCS) was thrown into a state of mourning when one of its men, Customs Assistant HamisuSani was attacked and killed by suspected rice smugglers.
Public Relations Officer of the command, AbdulahiMaiwada had in a statement he issued lasts Monday said that the incident occurred at Asero Road, Abeokuta while the Customs operatives were on routine patrol.
According to him, the Customs officials had intercepted eight vehicles fully loaded with smuggled rice and kept in a hideout at Asero community but in an attempt to seize the said items, the smugglers and their accomplice ambushed the officers in a dangerous manner.
'Unfortunately during the encounter, one of the officers, a Customs Assistant I HamisuSani sustained grievous injuries and paid the supreme price (died) in active Service. He has since been buried according Islamic rites. Also, an Inspector of Customs Tijani John Michel sustained serious machete cut but is responding to treatment in the hospital," Maiwada stated.
Recounting how the incident happened, the Controller of the command, Comptroller Micheal Agbara said, "The incident did not start in Abeokuta town, they (smugglers) pursued them (officers) along old Ibadan road up to Asero, the smugglers now diverted to Asero park and unfortunately, there was no light in the area, so under the cover of darkness, the officers assumed that they have ran away so they started moving the vehicles to the road. It was at that point, they attack them with dangerous objects."
The unfortunate killing of 31-year-old Sani by suspected smugglers is just one of many attacks on officers in the course of carrying out their statutory roles and responsibilities.
In 2018, the command suffered similar attacks on different occasions. In February, an operative of the command, Muhammed Maigari, was injured with a machete by armed smugglers at Ibeji River around Idogo-Ifoyintedo axis in Ipokia Local Government Area of the state.
Maigari and some of his colleagues were said to have been on routine patrol when they got an intelligence report that some smugglers were coming with a smuggled Toyota Highlander towards the Ibeji River, and they rushed to the scene to intercept the vehicle.
According to the command's spokesman, the smugglers attempted to disarm Maigara but when they were unsuccessful, they "decided to smash his head with the machete but he blocked it with his arm".
"The cut was life-threatening. The smugglers were armed and they confronted our operatives. But since we did not want any loss of lives, our operatives successfully intercepted the Toyota Highlander being smuggled through the forest," Maiwada said.
In April, a customs officer, Rasheed Abdulahi, attached to the Federal Operations Unit (FOU), Zone 'A' was abducted after a fierce clash with smugglers at the Sango Ota area of Ogun State. To date, his whereabouts remain a mystery.
Also on July 7, 2018, operatives of the command were attacked at Papalanto, which led to the infliction of machete cuts on Inspector of Customs Abdullahi Kuso. He was almost set ablaze if not for the timely intervention of reinforcement team from the command. The smugglers further expanded their hostility by destroying and setting ablaze several checkpoints along Papalanto- Ilaro road.
In October 2018, the command also recorded a mob attack on officers along Mango-Osun River area of Idiroko by suspected rice smugglers while in November 2018 some officers were attacked at Ebute community while attempting to pick up a truck head painted in a military camouflage colour smuggled and kept in the community and the latest attack at Asero road, which led to the death of Sani.
Speaking in an exclusive chat with SHIPS & PORTS DAILY on the development, Comptroller Agbara described the death of the officer as 'very unfortunate'.
He maintained that while the command will continue to strategize and re-strategize on ways to curb the spate of attacks on officers in the State, the command under his watch would not be intimidated to abandon its statutory duty of suppressing smuggling.
He said, "In the history of Ogun Command, attack on officers is not a new thing but we will not be intimated by anybody. If anybody feels attacking officers will stop what we are doing, the person is deceiving himself. We will continue to do our work and re-strategize and whatever strategy we are going to use should not be public consumption.
"We are on top of the situation and we will ensure that those who carried out the act are brought to justice. We are not going to relent and let the attacks dampen our spirit, we know why we are here and we know what we are supposed to do."
Following this latest attack, industry stakeholders have expressed worry over the extent at which smugglers unleash mayhem on customs officers while performing their legitimate duty especially in the border towns and communities.
An industry expert and former President, National Association of Government Approved Freight Forwarders (NAGAFF) Eugene Nweke said to curb the spate of attacks on officers, government should enact policies taking into cognizance the welfare of officers who are to implement such policies.
He stated that without the provision of adequate infrastructure and creating the enabling environment for customs officers to operate, it will be difficult for them to effectively carry out their duties without any hindrance.
"Government policies are exposing the lives of officers unduly to smugglers attack. There are certain policies of government that should be graduated. Most times, when government bring out policies, they should also take into cognisance the welfare of an officer who is to enforce that policy.
"The government knows that it does not have what it takes to put in place adequate equipment and apparatus to police the border and that is why we always here that the borders are so porous. When you have not provided the enabling infrastructure for the officers to do the job; they don't have helicopters to do the job other than chasing smugglers with patrol vehicles inside the bush. Why won't they be attacked by smugglers?
"The agricultural policy of government has achieved milestone but then, at what cost? The officers want to show their patriotism to government but the government must also take cognizance of the need to provide an enabling environment for them to discharge their duty.
"Rice is a staple food in Nigeria. But the same government that banned rice still import this rice by way of subsidising it. If Nigerian rice is cheap, why do we go to bring in imported rice from Cotonou. These are issues that need to be addressed and it can only be addressed when we have proper plan.
"After this administration leaves, perhaps after eight years, another one comes and then a new policy again. That has been our bane, policy inconsistency.
"Our agricultural policy should not be a policy of one government that just come and after eight years is gone. The United States of America (USA) drew its agricultural policy plan for 50 years. Within the 50 years, they did not talk about stopping importation or closing the border.
"So the idea of making policies that exposes officers and at the end of the day they die is not good. I am not supporting smuggling but due to the porosity of the border and against the backdrop that much has not be provided in terms of equipment to fight this war. We must draw policy that will be consistent to help strengthen the welfare of officers and Nigerians. Smuggling has been there, it is not a new thing," he told SHIPS & PORTS DAILY.
Other stakeholders, who also expressed concernsover frequent attacks on Customs officers and men, advised the management of NCS to step up its sensitization campaign through regular town hall meetings involving youths of the border communities on the ills of smuggling to the nation's economy.
According to them, there is need for increased effort because most of the smugglers actually see smuggling as their birthright.
The stakeholders want the customs management to do all within its power to check incessant attacks on officers, especially at the border commands.
The attacks, they say, if not checked, may scare officers away from the border communities where smuggling activities is carried out in broad daylight.
Copyright Ships & Ports Ltd. Permission to use quotations from this article is granted subject to appropriate credit given to www.shipsandports.com.ng as the source.