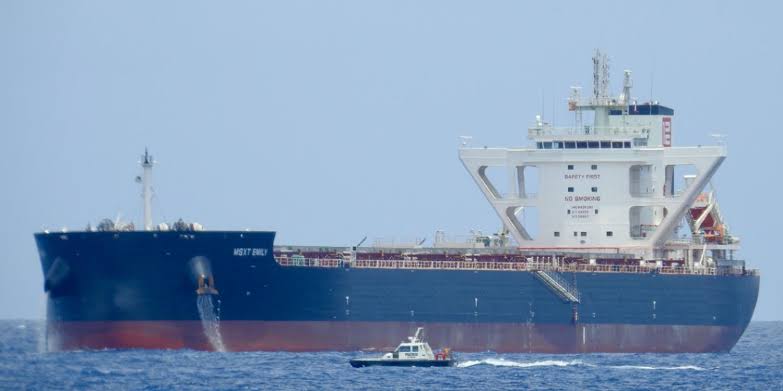 The Australian Maritime Safety Authority (AMSA) has banned the Liberian-flagged bulk carrier MSXT Emily from Australian waters for one year due to wage theft and seafarer mistreatment onboard.
Following up on a tip from International Transport Workers' Federation (ITF), AMSA inspectors boarded the ship, which was chartered by K-Line, at the Port of Hay Point, in Queensland, finding evidence of several violations of the Maritime Labour Convention 2006, including unpaid wages, forged signatures, and coerced employment agreements.
The vessel operator, MSM Ship Management Pte Ltd China, attempted to pay the owed wages once AMSA inspectors were onboard, but the operator appears to have concealed repeated wage theft.
According to the AMSA, seafarers on the vessel were not paid in accordance with their employment contracts. Some contracts contained forged signatures and some seafarers were coerced into signing new agreements with lower salaries.
In one case, a seafarer was found to have signed a new contract for 50% less pay while still holding a valid contract for another four months.
In total, AMSA inspectors found evidence that over US$77,000 in unpaid wages were owed to seafarers on the vessel.
AMSA Executive Director of Operations Michael Drake said this was a serious case of seafarer mistreatment.
"Wage theft, forgery and coercion are serious matters, and I have been deeply troubled to hear of the conditions on the MSXT Emily," he said. "The workforce conditions onboard this vessel are a disgrace, and AMSA will not tolerate this in Australian waters."
Drake said the one-year ban is necessary to emphasise the importance of seafarer welfare to all shipping operators.
"Seafarers are at sea for months at a time, and if morale is low or they are in poor physical and mental health, it can increase the risk of something going wrong. The supply chain, including vessel charters like K-Line, need to carefully consider which operators they engage to bring vessels to Australia.
"We're imposing this lengthy ban as a clear deterrent and recognise that these essential workers deserve the dignity and respect of fair pay and good workplace conditions," he said.
Copyright Ships & Ports Ltd. Permission to use quotations from this article is granted subject to appropriate credit given to www.shipsandports.com.ng as the source.