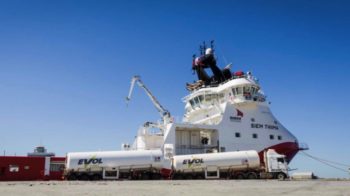 Australia's EVOL LNG is claiming the first LNG bunkering operation in Australia with the successful Truck-to-Ship refueling of the platform supply Siem Thiima, carried out January 23 at King Bay Supply Base near Dampier in Western Australia.
The operation was carried out under an agreement with Woodside. EVOL LNG is part of the Australian conglomerate Wesfarmers.
EVOL LNG Business Manager, Nick Rea, says his company sees the bunkering operation as just the beginning of LNG bunker fuel in Australia.
"Our decision to enter the LNG bunkering market is part of a long?term strategy that recognises environmental and economic sustainability of LNG as a transport fuel," said Rea. "It also recognises that the LNG marine fuel market is still in development so the fact EVOL has over 15 years' experience in distributing LNG means we saw an opportunity to provide a suite of services that perhaps others can't. "
Rea said that growth in LNG fuel has largely been driven by International Maritime Organisation (IMO) regulations and the introduction of emission control areas in Europe and North America. In addition, China has introduced emission control areas around its three major ports.
"Interest in LNG as a marine fuel is growing, especially since the IMO announced that it would introduce a global marine fuel sulphur limit of 0.5 percent from 2020," he said. ?"LNG is a cleaner fuel than marine diesel, emitting 25 percent less carbon dioxide, less nitrogen oxides and almost zero sulphur oxides and particulates, which largely addresses emission concerns for the shipping industry and avoids expensive and complicated scrubbing systems."
EVOL LNG secured its second major Australian port bunkering licence from Pilbara Ports Authority, permitting LNG bunkering at King Bay Supply Base and transport through the Port of Dampier. This followed its first licence from Fremantle Ports in July last year.
Copyright Ships & Ports Ltd. Permission to use quotations from this article is granted subject to appropriate credit given to www.shipsandports.com.ng as the source.