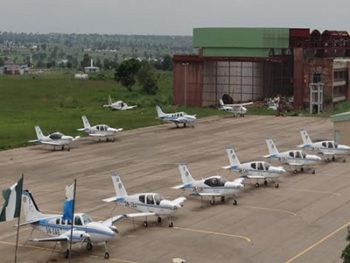 The Nigeria College of Aviation Technology (NCAT) Zaria has said that it will acquire five new modern light aircraft in 2018.
The Rector, Capt. Mohammed Abdulsalam, made this known this on Wednesday at the ongoing International Civil Aviation Organisation (ICAO) World Aviation Forum (IWAF) in Abuja.
Abdulsalam said that the move would enable the college avouch its position as the foremost civil aviation institute in Africa.
According to him, the institution was building on the recent recognition by the ICAO as a Regional Training Centre of Excellence (RTCE) after a rigorous audit that took 11 years.
Abdulsalam said sustaining the RTCE status requires improving and modernising learning and accommodation facilities at the institution to the ICAO standards.
"This year we had wanted to bring in additional aircrafts.
"We decided we wanted the single engine DA aircraft but the manufacturer told us that they were relocating their factory from Austria to Canada and they will not be able to start producing for at least six or seven months.
"Based on that, we decided that we will not bring in any aircraft this year but next year we will make provision to bring in a larger number so that we can start phasing out the older aircrafts.
"So we are looking at a minimum of five aircrafts and if it is possible we can even go for 10," he said.
Abdulsalam added that NCAT had made about 70 per cent payment for a Boeing 737 simulator already built in Canada to be moved to the college.
"Very soon, we will have the simulator installed in Zaria and when we do that; we will be offering B737 type rating.
"We will also be offering recurrent training for pilots which is a huge drain on the foreign exchange of the airlines and the country.
"As you know, their pilots have to go for recurrent training every six months and we hope to capture that market and start having that training in Zaria," he said.
He stressed that the college had made provisions to accommodate three more simulators to meet the need of its students.
The rector decried issue of unemployed young pilots in the country, adding that they should go into general aviation.
"As you know we have about 300 unemployed young pilots in the market. Our young pilots actually need to get involved in general aviation.
"The practice worldwide is that when you graduate from a flying school such as NCAT, with our 250 to 300 hours of light aircraft, you go into the general aviation.
"Some of them actually stay at the flying schools as instructors to build hours and gain experience. That was how I started.
"Some of them go into general aviation and fly light and medium aircrafts to gain experience before they go for their Airline Pilots Transport Licences and join commercial pilot airlines.
"This is the practice in most places but unfortunately for us here, most pilots that come out want to go and fly big commercial jets because it is glamorous."
Abdulsalam expressed optimism that the creation of the national carrier would create employment opportunities for these young pilots.