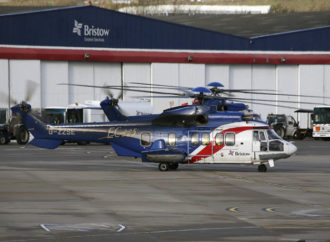 Aviation Unions on Thursday morning grounded the operations of Bristow Helicopters and Caverton Helicopters over their management continued refusal to address issues bordering on the welfare of their members.
The unions comprised of National Association of Aircraft Pilots and Engineers (NAAPE), Association of Aviation Professionals (ANAP), and other affilates in the United Labour Congress (ULC).
The unions members in the two companies withdrew their services, including the supply of fuel until issues raised by the unions are equitably resolved.
At the General Aviation Terminal (GAT), wing of the Lagos Airport, scores of union members blocked the entrance and exit gates of Bristow Helicopters to prevent passengers and others planning to patronise the firm from gaining access.
Addressing members of the unions, National President of NAAPE, Comrade Galadima Abednego said they were forced to shut down Bristow and Caverton Helicopters because of the failure of their management to address issues concerning their members.
He said attempts by NAAPE in the last four years to impress it on the management of Bristow to do the needfull has failed despite interventions by the Federal Ministry of Labour and Employment, Federal Ministry of Interior and the Nigerian Civil Aviation Authority (NCAA).
He said : "The management of Bristow Group has been unrelenting in violating both the spirit and letters of the Conditions of Service wittingly agreed to by them.
"We have tried every form of engagement with the hope of securing an amicable settlement of these issues. But our forbearance has been taken for granted, and our patience has been repaid with scorn and mocking by the management.
"Having no further means to get amelioration, our union has no alternative than to embark on this industrial action"Abednego said.
The NAAPE President said the strike could only be called off, if the management of Bristow takes steps to resolve pending issues.
On Caverton, the NAAPE boss said the firm's operations was shut because it has been shortchanging its members.
He said : "We shut down Caverton Helicopters operations because the the condition of service has expired. The management has been using delay tactics."