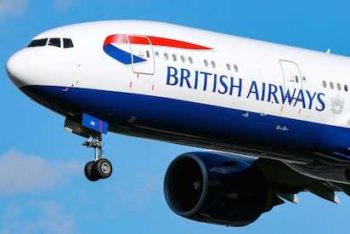 British Airways has commended the Nigerian government on the timely completion of the repairs on the Abuja airport runway.
The airline's Regional Commercial Manager for West Africa, Kola Olayinka, lauded the government in a statement on Saturday in Lagos.
Olayinka said that the airline had commenced flights to and from the Nnamdi Azikiwe International Airport in Abuja, after the Airport's timely runway repairs and re-opening.
He said that aviation services actually resumed a day earlier at the Abuja Airport, rather than on the April 19 date scheduled for the completion of repairs on the runway.
According to him, British Airways is very pleased that the international airport has reopened.
"British Airways BA83, scheduled to depart Terminal 5 at Heathrow, London on April 19, arrived at Abuja at 4:48 a.m. on April 20, as the first BA flight, following the re-opening.
"British Airways BA82 scheduled to depart Abuja Airport to London, left by 7:05 a.m., also on the same day.
"British Airways will like to applaud the Minister of State (Aviation), Hadi Sirika, and his team, for the brilliant job done on the Abuja runway,'' he said.
Olayinka recalled that the Nnamdi Azikiwe International Airport, Abuja was previously shut for six weeks to enable the contractor to repair its runway.
He said that at this period, British Airways reaffirms its commitment as a trusted airline and aviation partner that will continue to be associated with constructive alliances for the positive growth of the aviation industry in Nigeria.
Olayinka also assured the airline's customers and the general public of unparalleled services, going forward.   
Copyright 2017 Ships & Ports Ltd. Permission to use quotations from this article is granted subject to appropriate credit given to www.shipsandports.com.ng as the source.