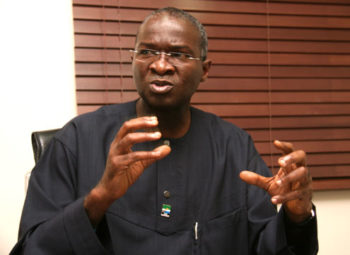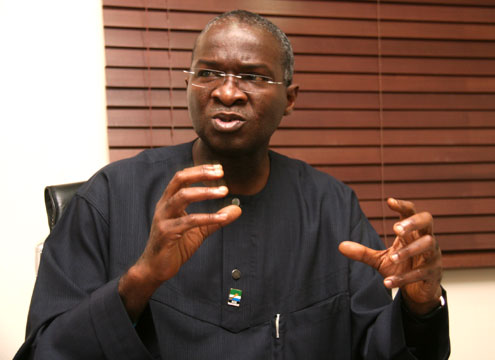 By Patience Danjuma 
The Minister of Power, Works and Housing, Babatunde Fashola, says his ministry is constrained, appealing to Nigerians to exercise patience.
Speaking with State House correspondents at the end of the Federal Executive council meeting, Fashola lamented the effect of the raining season on ministries departments and agencies responsible for civil works and road maintenance.
The Minister said during his tour in the first quarter, he identified 61 critical intervention spots across the country, "but we did not get the budgetary support to make that intervention".
"First, I want to sincerely empathise with commuters using the roads at this moment.
"We have seen what is happening on a global scale. We had made some plans to forestall this kind of things. We identified 61 critical intervention spots across the country following my tour in the first quarter but we did not get the budgetary support to make that intervention. So we are constrained.
"You will remember I had also spoken on the need for a contingency fund but even if we had the cash, if there is no appropriation, you can't spend the money and you can't anticipate any detail in advance of your current where these emergencies will happen. But I assure you that we are responding on a case-by-case basis.
"You will see our response. Our contractors have been notified so we urge the citizens to bear with us and also know that this government came to power on the basis of a commitment to end impunity, to end corruption. So, we must do things according to process and according to law."
He also spoke on the total contract sum for the Mambilla power project and the role that the government will play in the project.
"You will recall that sometimes last year, the Chinese government held a summit in South Africa, essentially what that was about was supporting and partnering with African government to do their infrastructure and also funding the Agurua projects, so this was one of the projects of infrastructure that was submitted there and I think it also had the rail component," he said.
"The money is coming from the Chinese government through their Exim bank, so is an export funding support for them and an import fir us. 85 percent is supposed to be financed by them and 15 per cent is our own counterpart funding. The award now triggers contract negotiations for the financing side and after that is concluded the projects can now start."
The minister said the project was designed to deliver 3,050 megawatts of power and that the productive output would also function for water supply.
"We have overcome the gas challenges and the vandals and pipeline repairs have progressed and that has impacted success on the generation side. Our power is going to come from sources, hydro, gas, solar and that is why we are invested in Mambilla for more hydro so that when one source is vulnerable we can rely on another's source," he said.
"But in addition to power increase in terms of production, the transmission capacity has also increase, it has moved from the proverbial 5,000 to 6,700 megawatt that we can will. But the problem now is at the distribution end. For the kind of sustainable power we all want to see, it means every part of the value chain must work. And that is why I will continue to say that as we demonstrate our ability on generation and transmission, we will demonstrate the same on our distribution.
"So, what we are now putting on the grid because the DisCos can't take the power is roughly about 2,000 megawatt so there is 4,000 plus averagely that is not being taken. So if you calculate for three days or five days, that your submission on 9,000 is probably not correct."  
Copyright Ships & Ports Ltd. Permission to use quotations from this article is granted subject to appropriate credit given to www.shipsandports.com.ng as the source.