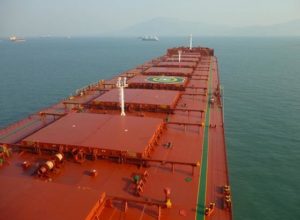 The Baltic Exchange's main sea freight index, tracking rates for ships carrying dry bulk commodities, rose on Friday for the ninth straight session, on higher rates for capesize and smaller vessels.
The overall index, which factors in rates for capesize, panamax, supramax and handysize shipping vessels, was up 13 points, or 1.35 percent, at 977 points, touching its highest in more than two months.
The capesize index climbed 61 points, or 5.58 percent, to 1,154 points.
Capesize dry bulker earnings are finishing the week on a firm note with assessments lifting up to about $9,200/day on average worldwide, Clarksons Platou Securities analysts said in a client note.
Average daily earnings for capesizes, which typically transport 150,000-tonne cargoes such as iron ore and coal, were up $396 at $9,170.
The panamax index was slid 2 points, or 0.16 percent, to 1,258 points.
Average daily earnings for panamaxes, which usually carry coal or grain cargoes of about 60,000 to 70,000 tonnes, decreased $13 to $10,080.
Among smaller vessels, the supramax index rose 5 points to 812 points, while the handysize index was up 2 points at 499 points. 
We pay for your stories! Do you have a story for Ships & Ports? Email us at [email protected] or call 0810 359 4873. You can also WhatsApp us here. We pay for videos too.

 

Copyright Ships & Ports Ltd. Permission to use quotations from this article is granted subject to appropriate credit given to www.shipsandports.com.ng as the source.