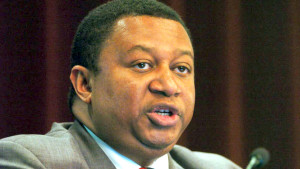 The Organisation for Petroleum Exporting Countries (OPEC) and outside producers including Russia will boost compliance with agreed oil output curbs in a bid to clear a supply glut that has weighed on prices, the group's secretary general said on Tuesday.
OPEC Secretary General Mohammad Barkindo also said he was "cautiously optimistic" on the outlook for the oil market, almost two months into the group's supply cut deal with Russia and other producers.
"Confidence has returned to this market," he said at a news conference at Energy Institute's IP Week, an annual gathering of the oil trading industry in London. "It's work in progress, but the trend I think has commenced."
Oil prices rose after the comments, trading above $57 a barrel in London. Crude, while up from the low $30s a year ago, is still half its level of mid-2014 because of a persistent supply glut.
The organization is curbing its output by about 1.2 million barrels per day (bpd) from Jan. 1, the first cut in eight years. Russia and 10 other non-OPEC producers agreed to cut half as much.
Barkindo said that the production data for January in OPEC's most recent monthly report showed conformity from participating OPEC nations with agreed output curbs above 90 percent.
"All countries involved remain resolute in the determination to achieve a higher level of conformity," he said in a speech.
Russia and the other outside producers have so far delivered a smaller percentage, but Barkindo told reporters this would increase.
"You have to give them the benefit of the doubt in the initial stages," he said, explaining that voluntary output restraint is a new activity for the outside producers.
"I am confident that the non-OPEC will also raise their level of conformity to bring it at par with OPEC."
He said it was too early to say if the supply cut, which lasts for six months from Jan. 1, would need to be extended or deepened at the next OPEC meeting in May.
"I think it will be very premature," he told reporters. "The market is so dynamic it is becoming increasingly challenging for even professional forecasters."
OPEC sources last week said extending or deepening the cut was a possibility if stocks do not fall.
Barkindo said that oil inventories were expected to decline this year.
"It is expected that we will see a further drop during 2017," he said. "We will continue to focus on the level of inventory drawdown to bring the level closer to the five-year industry average.
Copyright Ships & Ports Ltd. Permission to use quotations from this article is granted subject to appropriate credit given to www.shipsandports.com.ng as the source.