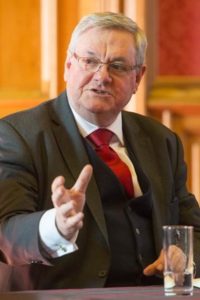 The UK Maritime & Coastguard Agency has appointed Doug Barrow as the new Director of the UK Ship Register (UKSR).
Doug Barrow is currently chief executive of Maritime London, a non-profit which promotes the UK-based companies within the international shipping industry. Barrow's experience in the commercial sector made him a particularly attractive candidate for the role as the UKSR looks to expand the register.
"Having started my career sailing for seven years under the Red Ensign, it will be a great honour to take on this role. I'm incredibly enthusiastic about working with a first-class team to ensure the UKSR is the register of choice for quality owners," said Barrow.
"I will bring a commercial input into the register gained from 30 years in the bunker industry – and, having spent the last 11 years promoting the UK as the world's premier maritime business centre, I will be bringing those skills to bear on my work with the register," he added.
As UK Ship Register Director, Barrow is expected to play a leading role in championing the UK flag and building on the recent growth of the register.
John Hayes, Minister of State for Transport, commented: "I'm delighted with this appointment and with all the commercial experience that Doug will bring to the UK Ship Register. We already have a great deal to be proud of in our UK maritime sector, which provides a strong and resilient backbone to the economy. The Government is committed to transforming the Ship Register to make it globally competitive for the 21st century and Doug's appointment will undoubtedly drive the register forwards."
Sir Alan Massey, Chief Executive of the Maritime & Coastguard Agency, said, "This marks a really exciting time for us as an Agency. The MCA's aim is to make the UK Ship Register both more commercially attractive and more responsive to ship owners. This will create the right conditions to grow the UK-flagged merchant fleet and help boost the UK's wider maritime economy."
The UK Ship Register (UKSR), part of the Maritime and Coastguard Agency (MCA), is one of the best performing flags in the major Port State Control regimes. In 2015, the UK flag was ranked number 2 on the Paris MoU "White, Grey and Black Lists".
Copyright Ships & Ports Ltd. Permission to use quotations from this article is granted subject to appropriate credit given to www.shipsandports.com.ng as the source.