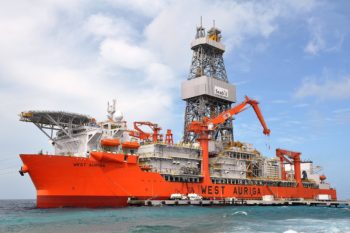 Rig firm Seadrill, battling with $14 billion in debt and liabilities, said on Tuesday it may have to file for Chapter 11 bankruptcy protection if it fails to reach a restructuring agreement with its lenders, sending its shares down 14 percent.
Once the crown jewel in the empire of shipping tycoon John Fredriksen, Oslo-listed Seadrill's shares have fallen 92 percent in the past three years as plunging crude prices and drastic spending cuts by oil companies hammered rig rates.
Seadrill's problems mirror those of another Fredriksen business, tanker firm Frontline, which had to be rescued in 2012 after a prolonged slump in rates by Hemen Holding, which manages his holdings in the listed companies he controls.
The Norwegian-born billionaire announced plans on Tuesday to beef up the tanker business and update its fleet while prices for vessels are low to position it for an expected recovery in rates from 2018.
But the scale of Seadrill's liabilities dwarf those of Frontline, and the rig company said it would be challenging to find a "fully consensual agreement" before an April 30 deadline. More than 40 banks are involved, in addition to bondholders.
"Feedback from certain stakeholders and potential new money providers … indicate that a comprehensive and consensual agreement will likely require conversion of our bonds to equity," it said in a statement.
In a plan made public in January, Seadrill had said it aimed to raise $1 billion in new capital, extend bank maturities, reduce fixed amortisation and extend maturities of unsecured claims.
But the company has so far failed to reach a deal on these terms, and Fredriksen, who holds a 23.6 percent stake in Frontline, now risks diluting his shareholding.
"It is a bitter pill to swallow but they need to do it," said one investor in Fredriksen companies, who declined to be named.
If it can't reach an agreement, Seadrill was preparing various contingency plans, including potential schemes of arrangement or Chapter 11 proceedings, the company said.
At 1203 GMT Seadrill shares were down 14 percent at 14.47 Norwegian crowns, while Frontline's stock was up 5.7 percent at 59.50 crowns.
Frontline said it had made a higher and final offer for rival DHT Holdings, in which it holds a 16 percent stake, adding that the bid was rejected. It also said it plans to buy two very large crude carriers (VLCCs) for $77.5 each from South Korea's DSME.
Brokerage Pareto Securities said the deal demonstrated Frontline's ability to take advantage of low asset prices during a market downturn.
According to an estimate by business magazine Kapital, which tracks the wealth of rich Norwegians, John Fredriksen, aged 72, had a net worth of some 92 billion Norwegian crowns ($11 billion) in 2016.
His two daughters have increasingly become involved in the running of his businesses in recent years.
Copyright Ships & Ports Ltd. Permission to use quotations from this article is granted subject to appropriate credit given to www.shipsandports.com.ng as the source.