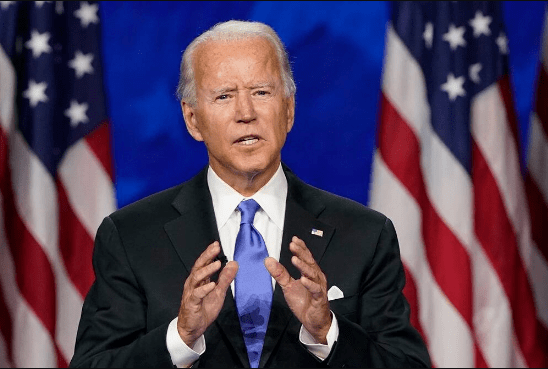 The administration of U.S. President Joe Biden will push International Maritime Organization (IMO) Member States to adopt a goal of achieving "zero emissions" from international shipping by 2050.
The call comes as President Biden held a virtual Leaders Summit on Climate last week during which he announced a target of reducing U.S. emissions by 50% by 2030 compared to 2005 levels and also fulfilled his commitment to rejoin the Paris Agreement.
The administration's target for shipping was included as a bullet point in a White House Fact Sheet on the virtual summit:
The international shipping sector contributes approximately three percent of global greenhouse gas (GHG) emissions, and the sector's emissions are only projected to increase. In support of the global effort to keep within reach a 1.5 degree C limit on global average temperature increase, and in support of global efforts to achieve net-zero GHG emissions no later than 2050, the United States is committing to work with countries in the International Maritime Organization (IMO) to adopt a goal of achieving zero emissions from international shipping by 2050 and to adopt ambitious measures that will place the sector on a pathway to achieve this goal.
The International Maritime Organization, the UN agency responsible for regulating international shipping, adopted an initial strategy in 2018 seeking to reduce total annual GHG emissions from ships by a minimum of 50% by 2050, compared to 2008 levels. The initial strategy is set to be finalized in 2023.
A study released in August 2020 showed carbon (CO2) emissions from shipping accounted for 2.89% of the world's total CO2 emissions in 2018, an increase from 2.76% in 2012 when the last study period ended.
The IMO's initial strategy seeks to reduce CO2 emissions by 40% by 2030, and 70% by 2050, compared to 2008 levels.
The Fact Sheet also indicated a partnership with Denmark.
"Joining Mission Innovation's hydrogen mission and co-leading, with Denmark, a mission to reducing greenhouse gas emissions in international shipping, both slated to launch at the June 2021 Mission Innovation ministerial," the Fact Sheet states.
The Biden administration's target was first announced last week by Special Presidential Envoy for Climate John Kerry.