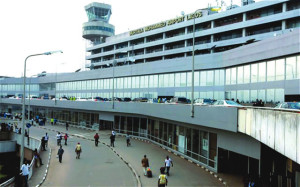 Part of the Murtala Muhammed International Airport (MMIA) in Lagos was early this morning thrown into pandemonium following the discovery of an alleged bomb planted by some unscrupulous persons.
The incident followed an alarm raised by workers arriving at the hajj and cargo terminal area who discovered an unattended bag.
A security source said the terminal manager, to whom the discovery was drawn, immediately placed a call to the security agencies at the airport, leading to the arrival of the Bomb Disposal Unit which opted to destroy the bag.
But the equipment used for the blast blasted a hole in one of the terminal buildings and shattered the roof. The big bang which accompanied the blast threw a scare into users of the terminal and had everyone running in different directions for safety.
After the blast, however, it was discovered that the bag only contained booklets of the Lagos State Pilgrims Welfare Board, normally issued to pilgrims from the state. Observers said the event meant that despite the seemingly sophisticated equipment of the Bomb Disposal Unit, they adopted a crude approach that could have cost lives, as they neither analyzed the bag nor took it away from the area for safer disposal.
One security source said: "We received a call from a top official of the Federal Airports Authority of Nigeria (FAAN) today, calling our attention to a possible bomb planted by some people at the terminal.
"So, we immediately got to work and blasted the bag, which we discovered contained booklets of Lagos State Pilgrims board, but, it created a lot of fear at that area of the airport."
While the FAAN is yet to issue a statement on the matter, as of the time of filing this report, the entire place was condoned off, while pilgrims were being directed to other parts of the terminal for their travel processes.