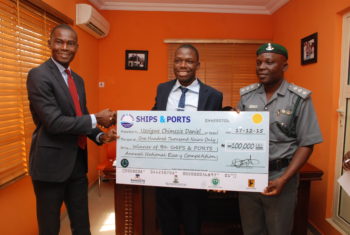 By Uzoigwe Chimezie Daniel
The relevance of shipping in driving socio-economic development cannot be over-emphasized. According to the United Nations, maritime activity has a key role to play in the alleviation of extreme poverty and hunger as it already provides an important source of income and employment for many developing countries, such as the supply of seagoing personnel and ship recycling, ship owning and operating, shipbuilding and repair and port services, among others. As far back as 1776, Adam Smith, in recognition of the economic role of the shipping industry had written in The Wealth of Nations that a 'business working in a country town without links to the outside world can never achieve high levels of efficiency because its small market will limit the degree of specialization.' Because shipping has facilitated world trade and enabled countries to benefit from trade, it is recognized as a major driver of the globalization process. Maritime transport is essential to the world's economy as according to the International Centre for Trade and Sustainable Development (ICTSD), about 90 percent of world trade (by volume) and 60 percent by value is transported by sea.
Nigeria has a growing shipping sector but one that is plagued by many challenges. One of these is the low level of indigenous participation in the shipping sector. Nigeria as a cargo owning nation generates more than 70% of the cargo throughput in West and Central Africa but presently, the sector is characterised by the domination of foreign flag vessels especially those of developed market economies of Western Europe and America. Figures available show that as at 2013, about 98 percent of the sea freight in Nigeria were still done by foreign companies and that foreigners make up about 85% of the maritime workforce in Nigeria. This ugly situation creates a myriad of losses for both indigenous shippers and for the general economy. At a 2012 Maritime Sector Presidential Retreat, Nigeria's former Minister of Finance, Dr. Ngozi Okonjo-Iweala had lamented that the country loses over ₦2 trillion annually in capital flight to foreign countries following the inability of the indigenous ship owners to fully participate in lifting of the over 150 million of cargoes from the country including crude oil exports. Although in 2014, the then Minister of Petroleum, Mrs. Diezani Alison-Madueke had announced that 60 percent of that year's oil lifting contracts had been awarded to shipping companies owned by Nigerians to encourage local participation in the oil and gas sector of the economy, many stakeholders including members of the Nigerian Shipowners Association (NISA) had described the policy as deceptive and a mere smokescreen while others doubted government's commitment to implementing the initiative.
There is no doubt that there is a strong case for boosting indigenous participation in the shipping sector. Boosting indigenous participation in the shipping sector would boost freight revenue for local shippers, earn and help conserve foreign exchange and also help develop indigenous capacity for global competitiveness. Greater indigenous participation will also help in accelerating the development of Nigeria's defence and security and also create employment opportunities thus improving the contribution of the maritime sector to the country's Gross Domestic Product.
Factors militating against indigenous participation in Nigeria's shipping sector 
There are many factors militating against indigenous participation in the shipping sector. First, shipping is a very capital intensive business and requires huge capital outlay for success. There are also stringent international maritime rules and standards that are enforced by governments in the exercise of flag, port and coastal state jurisdiction which local shippers do not have the requisite capacity to comply with. These constitute a huge barrier to entry and for existing indigenous shippers to compete favourably. This situation is also not helped by the anti-competition behaviours of the foreign shippers.
The failure of government policy and legislations in helping to grow indigenous participation in the shipping sector is a case in point. There have been many policies to support participation of indigenous shippers but poor implementation of these policies has hindered progress. For instance, The Coastal and Inland Shipping Act (Cabotage Act) of 2003 aimed at promoting the development of indigenous tonnage by empowering Nigerians to participate in Shipping. The Act restricted the use of foreign vessels in Nigeria's domestic coastal trade and operations. However, poor implementation and application of a waiver clause in the Act led to the defeat of this objective. The same sorry tale also applies to the report of the Presidential Committee on Development of the Maritime Industry whose broad recommendations that could have helped deepen indigenous participation in the maritime sector were never implemented.
Another factor that has militated against indigenous participation in the Nigerian shipping sector is the near absence of special financing arrangements to support the growth of indigenous shipping. For example, after many years, a Cabotage Vessel Financing Fund (CVFF) established as part of the Cabotage Act to provide financial assistance to indigenous operators is yet to be disbursed. Government has also failed to provide other incentives to support indigenous investments in the shipping sector.
How to boost indigenous participation in the shipping sector 
The suggestions proffered here on the way forward for boosting indigenous participation in the shipping sector border on three broad areas – Operations and Regulation, Policy and Legislation and Financing.
Operations and Regulation
There is an urgent need for improved efficiency in maritime operations in Nigeria to improve global competitiveness. Improved transparency, predictability and efficiency in maritime operations will enable existing investments in the sector to thrive and help attract new indigenous investments in the sector. The issue of efficiency cannot be overemphasized as a sector that is plagued by operational inefficiencies can hardly attract investments and necessary financing. In the same vein, it is also important that stakeholders – operators and regulators represented mainly by the Nigerian Shipowners Association (NSA), the Nigerian Shippers Council (NSC) and the Nigerian Maritime Administration and Safety Agency (NIMASA) collaborate more effectively to implement strategies to boost indigenous participation in Nigeria's shipping sector.
Policy and Legislations
There is need for the implementation of existing policies and legislations that are capable of boosting indigenous participation in the shipping sector. The Cabotage law should be effectively implemented and the waiver clause that has undermined the success of that legislation should be expunged. The government should also implement the report of the Presidential Committee on the Development of the Maritime Sector which recommended that the arrangement for crude oil lifting should be changed from Free on Board (FOB) to Cost, Insurance and Freight (CIF) so Nigerian shippers can actively participate in transporting crude to buyers.
The introduction of deliberate policy incentives like tax incentives to encourage indigenous participation in the shipping sector is long overdue. Indigenous shippers should be given access to contracts and pragmatic and forward-looking legislations that would boost the competitiveness of indigenous shippers should be put in place.
Financing
There is no doubt that financing is pivotal to boosting indigenous participation in the shipping sector and there is need for interventions in this regard. First, there is need for a Central Bank intervention through a bail-out fund to clear the burden of indebtedness of local shippers to banks which stand at over ₦500 billion. This will ensure that these businesses are saved from extinction. Then, there is need for the disbursement of the Cabotage Vessels Financing Fund so indigenous operators can acquire standard ships that can ply international shipping routes.
The Central Bank can also go further by establishing a Nigeria Incentive-based Risk Sharing System for Maritime Lending (NIRSML) just like it did for the agricultural sector (see CBN's policy brief on NIRSAL) that fixes the shipping value chain and that allows banks to lend to the shipping value chain with confidence by offering them strong incentives and technical assistance. In the same vein, the apex bank should also consider establishing a Maritime Development Bank (MDB) that will be committed to maritime infrastructure and shipping financing and to the development of indigenous shipping capacity and local know-how.
Learning from the experience of other countries.
There is need for Nigeria to study and learn from the experience of other countries who have built indigenous capacity in shipping from the scratch. In the ASEAN region for example, Philippines has achieved a good reputation as a global supplier of sea farers, creating millions of jobs and earning foreign exchange. Nigeria also needs to learn how America used the Jones Act to develop and empower American marine business and technology.
As Nigeria faces dwindling fortunes from the oil and gas sector, it has become very imperative that we diversify the economy and seek new sources of growth. In doing this, a veritable option for us is to promote the development of the shipping sector by boosting indigenous participation in that critical sector.
Uzoigwe Chimezie Daniel submitted this entry which was adjudged the Best Overall Essay in the 2015 Ships & Ports Annual National Essay Competition and was awarded N100,000 Dangote Port Operation Prize on 17th December 2015 in Lagos.
Copyright Ships & Ports Ltd. Permission to use quotations from this article is granted subject to appropriate credit given to www.shipsandports.com.ng as the source.