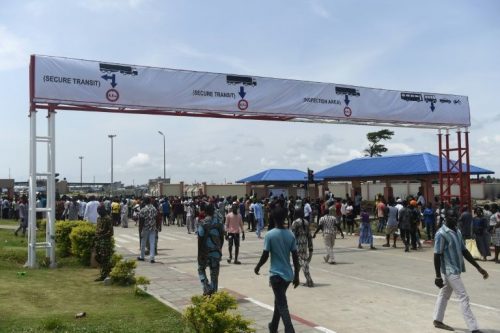 Director General, Manufacturers Association of Nigeria (MAN) Segun Ajayi- Kadiri, has said that the decision of the Federal Government to shut the nation's land border was ill-advised and "an unfortunate step", which cannot be sustained.
Comptroller General of Customs, Hameed Ali, had announced on Monday in Abuja that no item can be imported or exported through the land borders anymore, until there is an agreement with neighbouring countries on the kind of goods that should enter and exit Nigeria.
According to Ali, the measure is for security agencies to be able to scan the goods entering the country, stating that all goods must only enter through the legitimate air and sea ports where they can undergo thorough scanning and certified fit for consumption.
"For now, all goods, whether illicit or non-illicit, are banned from going and coming into Nigeria," Ali had stated.
But speaking in a chat with SHIPS & PORTS, Ajayi- Kadiri said the closure of the borders is in contravention of the Economic Community of West Africa States (ECOWAS) Trade Liberalization Scheme, which Nigeria is signatory to and might lead to irreparable damage in relationship with neighbouring countries.
He said, "It is an unfortunate step taken by government to curb influx of smuggled goods and also to check criminality but this cannot be a permanent solution and it is not sustainable. We are signatories to agreement like ECOWAS Trade Liberalization Scheme (ETLS) and border closure is not part of the arrangement. Truly our neighbours have been unfair to us in terms of their trade practices but the border closure supposed to be short leave.
There has to be a leeway for people doing legitimate business at the border.
"Placing ban on goods indefinitely is worrisome and we would advise that government should have a re-think on how they can quickly achieve their objective while allowing people who do legitimate business run their businesses."
On his part, President, National Council of Managing Directors of License Customs Agents, Lucky Amiwero, said the Comptroller General of Customs lacks the power to ban imports and exports through the land border.
According to him, it is the President or the Minister of Finance that should exercise such powers and not the CG of Customs.
He cited section 13 of the Customs and Excise Management Act (CEMA), which grants the Minister power to restrict the import of goods into the country, arguing that such powers of the Minister cannot be delegated to the CG to act on her behalf, thus making it illegal for the CG to make such pronouncement.