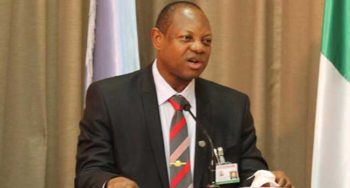 Special adviser to the president on Niger-Delta, Paul Boroh, says President Muhammadu Buhari approves everything he asked him for concerning his activities in the Niger Delta.
Boroh, who is also the coordinator, presidential amnesty programme, disclosed in New York that Buhari's commitment had brought about peace in the region.
"The main reason the Niger-Delta is stable today is because of the total commitment of the President, Muhammadu Buhari, in ensuring that the Niger-Delta is peaceful, stable," he said.
"This is mainly to allow for development in the region.
"The president is very concerned about the region – that it has not developed the way he expected.
"That is why candidly speaking, all that I ask for, he approves.
"It is more so because he's very committed to ensuring development in the region.
"And while he gives me the support to achieve his commitment, the stakeholders of the Presidential Amnesty Programme are also in total support of the administration.
"We meet from time to time and they pledge their loyalty, they are happy with the way the programme is being conducted.
"And they are ready to ensure that they support the administration and the programme until we achieve the result for which it was established."