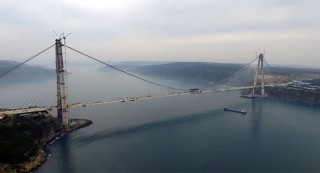 Vessel traffic in the Bosphorus Strait is scheduled to be closed tomorrow due to the opening of the Yavuz Sultan Selim Bridge, initially named the Third Bosphorus Bridge, according to data provided by Wilhelmsen Ship Agency.
The closure in the shipping lane, which connects the Mediterranean with the Black Sea, would affect the traffic both ways until the bridge opening ceremony is completed.
The exact hours when the closure will start and end were not disclosed.
GAC said that more details would be released tomorrow in the morning.
The new rail and road bridge is situated between Garipçe in Sarıyer on the European side and Poyrazköy in Beykoz on the Asian side.