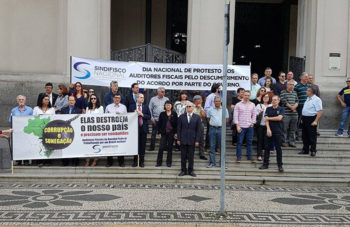 A strike action by the Receita Federal Customs in Brazil has intensified as it enters its fourth week and is now causing severe delays for shippers and carriers alike.
Santos, the largest port in South America with 3.6million TEU last year, has been hardest hit, with containers delayed between five days and a week, according to Sau Paulo and Santos Ship agents association (Sindamar) and other sources in the port city, which said that containers are missing their sailings and racking up the detention and demurrage fees.
"All Santos Customs officials are on strike and the damage is incalculable. We must find a solution to this impasse and sooner rather than later," Executive Director for Sindamar, Jose Roque said.
Adding to the trouble, officials in the tax analyst section of the Receita Federal have joined the strikes and the delays are also mounting at key border crossing, particularly along the borders at Argentina and Paraguay.
Roque have been pushing for a resolution to the crisis sending several letters to the Ministers of Planning and Finance in Brasilia and union leaders over the past week, asking all involved to make concession 'for the sake of the country'.
"Loads that are normally cleared in 24 hours accumulate in the terminals waiting for authorizations. If the situation persists, terminals are expected to exhaust their physical capacity for storage shortly and all their spaces will be occupied due to lack of clearance with ships leaving Santos without all scheduled loads, resulting in loss of revenue from maritime freight," says Roque.
Coffee and beef shippers are among those badly affected with one exporter saying that his company was suffering delays of two or three days after eight days of strike action, but those delays have now grown to between five and seven days.
"The strike is all over Brazil and is also especially severe on our borders," he said.
The National Union of Tax Auditors says the strike at Santos alone costs the government $324.6 million daily. However, the government is holding firm and seems unwilling to grant the customs officers' demand as it works to improve the country's finances.