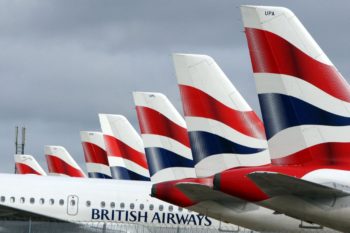 British Airways cabin crew will strike for two more weeks in a long-running dispute over pay, the Unite union has announced.
Members of Unite will walk out again from August 16 until the end of the month, which includes the August bank holiday.
The workers were taking their 58th day of strike action today and unless the deadlock is broken, the action will have lasted for the whole of July and August.
The company and union have been unable to settle a long-running dispute over pay for so-called mixed fleet employees, Daily Mail reports.
Mixed fleet staff have been recruited since 2010 and make up about 30 per cent of crew at Heathrow.
Unite claim mixed fleet staff are employed on less favourable contracts than longer-serving crew members, referring to it as 'poverty pay.'
They said the action has forced British Airways to spend millions of pounds on leasing aircraft to cover the striking cabin crew.
But BA has argued the pay and rewards are in line with those given to employees at competing firms.
Unite national officer, Oliver Richardson, said: "Strike action will continue until the end of August unless British Airways hammers out a deal with Unite to resolve this dispute.
"The airline needs to get around the negotiating table and start recognising that punishing low-paid workers fighting for fairer pay is no way for a 'premium' airline to behave."
The union described an offer by the airline to reinstate travel concessions for workers who have been on strike as 'half-hearted.'
Unite is pursuing legal action on behalf of cabin crew who have faced 'sanctions,' including the removal of bonus pay and travel concessions.
A British Airways statement said: "As we have done in previous periods of industrial action, we will ensure our customers reach their destinations.
"More than three months ago, Unite agreed that our pay deal was acceptable, but have since refused to ballot their members on it.
"Last week, we took the significant step of offering to return staff travel to crew who had been on strike, which was the biggest outstanding issue in the dispute, in order to bring the dispute to an end.
"Unite has now chosen to reject this offer and call yet more strikes."
The latest news comes after furious passengers faced lengthy queues on Wednesday when British Airways' new check-in system crashed for the seventh time in a year.