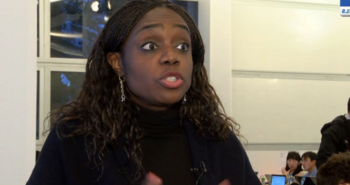 The Federal Government has declared that the national budget is too small and cannot deliver essential services.
Speaking at the Aso Rock Presidential Villa in Abuja on Tuesday during the quarterly presidential business forum, Finance Minister Kemi Adeosun said the budget could only pay salaries.
The minister emphasized that plugging all the leakages would not even make any difference.
She said the country had to get its budget bigger and to do that it could not borrow any more.
According to Adeosun, in order to fund the budget, the government needs to mobilise additional revenue, plug the leakages and improve tax collection.
It was not clear whether the minister was being specific about the 2017 Appropriation Act.
The National Assembly had on May 11 passed the 2017 budget proposal, increasing it from the N7.28 trillion proposed by President Muhammadu Buhari last December to N7.44 trillion.
The minister stated: "Our budget is significantly lower when attached to GDP, we are currently at 6 percent. It is lower than all our peers, we are currently at six percent and that is the lowest in Sub Saharan Africa and one of the lowest in the world.
"Our budget size is too small and that means we can only pay salaries in some cases and we don't have money to deliver essential services.
"There simply isn't enough money in government to do what government wants to do. I'm sure you will say that is because people are stealing or because you are wasting money, but I'm saying even if you plug all the stealing and all the waste, the budget size is not big enough.
"Because we're not paying enough in terms of tax or we're not collecting enough in terms of tax.
"Statistics shows our tax to GDP at 6%, Sub Saharan Africa average 17%, Asia 26%, most of the emerging markets and the advanced countries are at 30-35 percent.
"It's interesting if you look at the statistics, there is no poor country that has a high tax to GDP ratio and there is no rich country with a lower one.
"And so, if we want to move with the prosperous countries we've to do what they do. We'll not achieve prosperity for Nigeria if we continue on the tax to GDP ratio that is in the peer group of Afghanistan.
'I'm sure none of us aspires for Nigeria to become like Afghanistan, we are trying to benchmark ourselves against more developed countries and we must have to address these problems in a more fundamental sense.
"The problem is that we have been relying on oil and oil gave us a big budget size. It is just one of our resources and as you know, it's only 10% of our GDP. So, the rest of our economy 90% really has to contribute to our revenue.
"So, what are we trying to do? We need to mobilize additional revenue to fund our budget. We have got to get our budget bigger and to do that we cannot borrow anymore.
"We simply have to generate more revenue, we have to plug the leakages, we have to improve tax collection so that we can manage our borrowing."
Adeosun noted that the Voluntary Assets and Income Declaration Scheme was aimed at improving revenue collection rate and improving domestic revenue mobilization so that the budget could be sustainably funded.
She said there had been an encouraging response from Nigerians since the Voluntary Assets and Income Declaration Scheme was launched.
"I think as a nation, we have realized we cannot continue in the direction we have been in and there is need for a step change.
"On the government's side, it puts us under pressure to deliver those services and that will reposition Nigeria that we will not be so vulnerable as we have been in the past to oil price movements," she added.