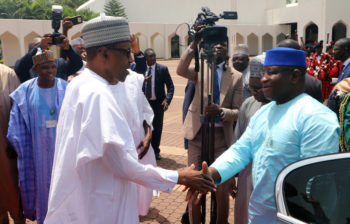 President Muhammadu Buhari on Wednesday met with President Julius Bio of Sierra Leone, behind closed doors at the Presidential Villa, Abuja.
That was the first time Bio would be visiting Nigeria after his recent election.
Bio told State House correspondents at the end of the meeting that they both agreed to strengthen ties for the mutual benefit of the two countries.
The visiting President disclosed that issues concerning security, trade, health and movement of people were discussed at the meeting.
Bio said he was in Nigeria to appreciate the support of Nigeria to Sierra Leone during its difficult times and its recently held election.
He said: "Nigeria and Sierra Leone are two sister countries that have enjoyed a great relationship spanning over several years and this relationship has been tested severally.
"I came today to express our country's gratitude to the Federal Republic of Nigeria for standing by us during our time of need, when we had the civil war.
"This is my first time in Nigeria after I was elected. I am here on this courtesy call to renew our bond of friendship and to see how we can deepen this relationship which is mutually beneficial."
Bio said the two leaders were concerned about the recent outbreak of the deadly Ebola virus in the Democratic Republic of Congo.
He added that preventive measures are being taken to prevent the spread of the disease.