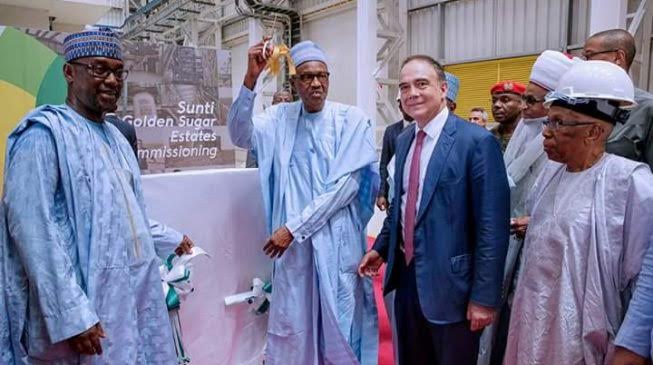 President Muhammadu Buhari says the country's economy has continued to record "considerable progress" after the recession.
Buhari said this on Thursday while inaugurating the Sunti Golden Sugar Estate in, Mokwa, Niger state.
The president said the establishment of the sugar estate is a testament to his administration's policies on the diversification of the economy.
"This project could not have come at a better time," Buhari said.
"As Nigeria makes her journey out of recession and the economy continues to show considerable progress, we are reminded of one of the cardinal objectives of this administration which is to look inwards as we focus on our natural endowments in agriculture, and other non-oil sectors for inclusive growth and development.
"The level of work and magnitude of investment that we are witnessing here today is a clear demonstration that our policies on economic diversification are on the right path."
The president said the country should be able to attain self-sufficiency in sugar production following the establishment of the plant.
"While we have had some challenges in the implementation of the National Sugar Master Plan (NSMP) in the past, I believe that our vision of attaining self-sufficiency in sugar in Nigeria is well within sight with the kind of investment that has been made here," he said.
Buhari added that since its establishment in 1960, Flour Mills of Nigeria has become a household name bring nourishment to Nigerians.
The chairman of Flour Mills, John Coumantaros, said the investment aims at setting Nigeria on the path of self-sufficiency in sugar production.
Coumantaros said the sugar estate underscores the company's commitment to backward integration.
Flour Mills of Nigeria Plc said the sugar estate would provide employment for about 10,000 people yearly.
The sugar estate, said to be worth about N50 billion, has the capacity to produce 100,000 metric tons of sugar annually.  
Copyright Ships & Ports Ltd. Permission to use quotations from this article is granted subject to appropriate credit given to www.shipsandports.com.ng as the source.