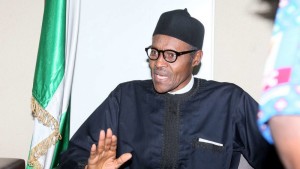 President Muhammadu Buhari has hit back on ex-President Goodluck Jonathan, saying that corruption was not repressed during his administration.
In a statement on Wednesday, Femi Adesina, special adviser to the president on media and publicity, said the recent discoveries made by the Economic and Financial Crimes Commission (EFCC) have shown that corruption had an "uninhibited course" in recent administrations.
He also insisted that Buhari's fight against graft is not targeted at any individual or group.
Adesina was reacting to the allegation of Jonathan that Buhari's government has been harassing his family.
"We make bold to state unequivocally that President Buhari harasses nobody; he merely allows the law to take its course," he said. "For the umpteenth time, we say that anybody without skeleton in his or her cupboard, has nothing to fear about the bared fangs of the anti-corruption initiative.
"Fear belongs only to those who have abused trust while in office. Anybody who feels aggrieved is free to approach the courts to seek redress or justice. President Buhari believes in the rule of law and that is why his campaign against corruption is anchored on that plank.
"With regard to President Buhari's anti-graft style, which the former president deprecates, given the scale of revelations and recoveries so far by the anti-corruption agencies, it is obvious that corruption had an uninhibited course during our recent past.
"In any case, time will give the verdict on whose style of fighting corruption ultimately yielded the most dividends.
"President Buhari firmly believes that national interest must always be placed above personal interest, no matter who is involved."    
Copyright Ships & Ports Ltd. Permission to use quotations from this article is granted subject to appropriate credit given to www.shipsandports.com.ng as the source.