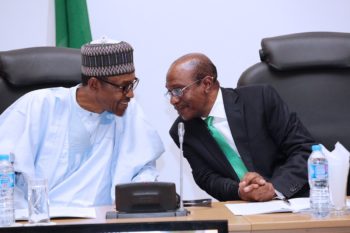 It was the first of such briefing since Buhari returned to the country on Friday after his 49-day medical vacation in London, United Kingdom.
Emefiele, it was expected, would have briefed Buhari on development in the sector while he was away.
He was particularly expected to brief the President on efforts being made by the apex bank to stabilise the naira against the dollar.
Emefiele did not speak to journalists after the meeting described as private.
The Presidency had also not issued any statement on the meeting as of the time of filing this report.
Also on Tuesday, the President signed the instrument of ratification of the treaty on the establishment of the Abidjan-Lagos corridor.
The treaty is among the governments of Republic of Benin, Cote d'Ivoire, Ghana, Togo and Nigeria.
He signed the treaty in his office on his second working day after resumption.
Buhari who arrived the country on Friday resumed work on Monday.
On resumption, he had transmitted a letter to the National Assembly, informing the lawmakers of his return.
He also received a briefing from Vice-President Yemi Osinbajo who held the fort for him while he was away.
Although his handlers had claimed he was hale and hearty, Buhari told some state governors and top government officials on his return that he had never been this sick.
He had told them how he had to undergo blood transfusion and be going in and out of laboratories.
He warned Nigerians to avoid self-medication and have more trust in their doctors.