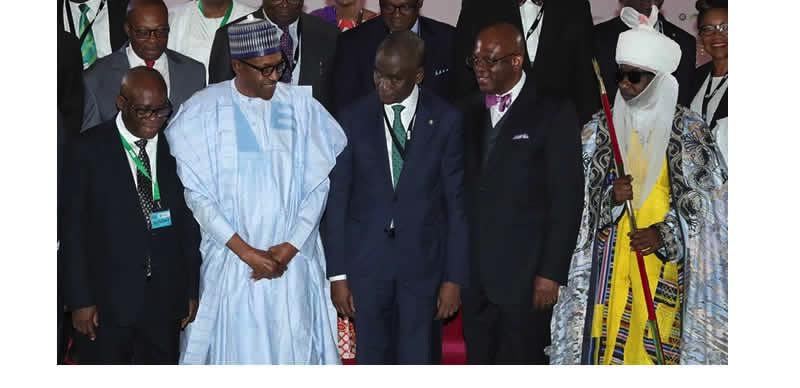 President Muhammadu Buhari has said that the rights of individuals in the society must always take second place where national security and public interests are threatened.
President Buhari said this Sunday while declaring open the 58th Annual General Conference of the Nigerian Bar Association (NBA) in Abuja with the theme: "Transition, Transformation and Sustainable Institutions''.
He said although his administration subscribes to the rule of law as the foundation of the society, it is also guided by the belief that the rule of law must be subject to the supremacy of the nation's security and national interest.
"Our apex court has had cause to adopt a position on this issue in this regard and it is now a matter of judicial recognition that; where national security and public interest are threatened or there is a likelihood of their being threatened, the individual rights of those allegedly responsible must take second place, in favour of the greater good of society," he said.
Buhari urged lawyers to join his administration in achieving the  core objective of enhancing Nigeria's business environment and promoting social justice by promoting respect for the Rule of Law; contributing to the law reform process and putting national interest and professional ethics above self in the conduct of their business.
The President recalled the challenges faced by his administration since its inception in 2015 and efforts being made to put the country on a better footing.
"Let me assure you of the resolve of this administration to promote measures that will achieve a vibrant economy under which the practice of law will thrive.
"Through fiscal discipline, good housekeeping, we navigated the difficult days of economic transformation at the beginning of this Government in 2015 and have now come to improving economic indices, including the consistent increase in our foreign reserves; thirteen straight months of decreasing inflation; the expansion of social safety nets programmes as well as the blockages of historical drain pipes in our national treasury, all within the context of the Economic Recovery and Growth Plan.
"It is equally significant to emphasise that our willingness to hold persons accountable for offences against society, through the judicial process, will equally transform the future of public service in Nigeria in a positive manner.
He urged lawyers to uphold and improve the sanctity and integrity of Nigeria's  judicial and electoral institutions which play a fundamental role in the sustenance and growth of our democracy.
"While we have made appreciable progress in several sectors, including public awareness of the need to challenge the corrupt and the brazen in our midst, we have also learnt useful lessons on the dynamism of our society. However, elements within every society, including some lawyers, can equally become unduly resistant to change, even where it is proven that such change is to serve the interest of the larger society.  At worst, corruption fights back.
"As we gradually move into another season of intense political activities preparatory to the 2019 General Elections, I enjoin you to remember that by reason of your profession, you all have a responsibility to work for national cohesion and unity through your speeches and public positions and most importantly in your advocacy in court.
"In the context of opinions and narratives about our past and present political and socio-economic experience, you cannot afford to jettison rational and proper analysis of issues in a manner which builds, rather than destroys the nation. I also urge you to work to uphold and improve the sanctity and integrity of our judicial and electoral institutions which play a fundamental role in the sustenance and growth of our democracy.
"However, let me remind you all, my dear compatriots, that the law can only be optimally practiced in a Nigeria that is safe, secure and prosperous", he said.
Copyright Ships & Ports Ltd. Permission to use quotations from this article is granted subject to appropriate credit given to www.shipsandports.com.ng as the source.