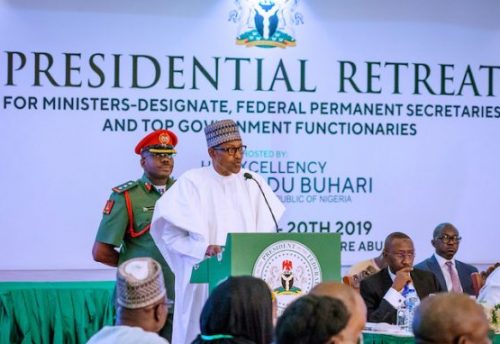 President Muhammadu Buhari has said that Nigerians are poor and are anxiously expectant of a better life.  
He said this while addressing newly appointed ministers at a presidential retreat in Abuja.  
He charged the ministers on the task ahead, stating that his administration inherited challenges from the past government.  
He said, "The majority of our people are poor and are anxiously hoping for a better life.  
"A Nigeria in which they do not have to worry about what they will eat, where they will live or if they can afford to pay for their children's education or healthcare.
"Our responsibility as leaders of this great country is to meet these basic needs for our people.  
"As I mentioned earlier, this administration inherited many challenges from our predecessors to mention a few.
"A country in which 18 local governments in the North-East were under the control of Boko Haram; decayed infrastructure in which our rail lines and roads had severely deteriorated; a rent-seeking economy that depended largely on oil revenues and imports; significant unpaid pensions, subsidy debts, legacy contractor debts. I can go on and on. The people want a new life and we must give them this." 
Buhari said the ministers-designate should use the opportunity of their appointments to serve Nigerians and the country.
He said, "You will find that working collaboratively and purposefully will enable us to achieve quicker results, recognizing that four years is not a very long time.
"For the new ministers, make sure you engage and benefit from the experience of the older ministers and former governors in the cabinet."
Copyright Ships & Ports Ltd. Permission to use quotations from this article is granted subject to appropriate credit given to www.shipsandports.com.ng as the source.