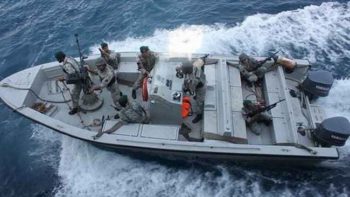 President Muhammadu Buhari has approved the purchase of patrol vessels to deter illegal fishing and help secure vessels at sea.
The Vice President, Prof. Yemi Osinbajo made this known at the 10th Annual Ministrial Conference of the Fisheries Committee for West Central Gulf of Guinea (FCWC), on Friday in Abuja.
Osinbajo said safety of the nation's waterways remained a key priority to the current administration.
He restated Federal Government determination to reducing fish imports into the country, saying the efforts are already yielding significant results.
The Vice President disclosed that within 2017, local fish production increased from 450, 000 metric tons from early January to 1.1 million metric tons.
"The safety of Nigeria maritime is also a principal concern to us. President Muhammadu Buhari has approved the purchase of some patrol vessels for the department of fishery which would be managed with the collaboration of the Nigerian Navy. These vessels will boost the research and rescue capacities of the relevant security agencies, deter illegal fishing and help secure our vessels at sea.
"In the north east of Nigeria where Boko Haram has devastated the fishery industry which supplies most of the West African states. Earlier this year, President Buhari approve establishment of Lake Chad Naval Base to boost security and fastrack the restoration of the livelihood in that zone.
"Theme of this conference which is to invest in the growth and sustainability of fishery in west Africa, it is important even in term of sharing the experience and lay aspiration for the economic wellbeing of our people. Our effort to reduce fish import and increase local fish production by encouraging the private sectors to invest in the aquaculture is yielding positive result. In the domestic fish production for example, in the last two years has increased from 450,000 metric tons to 1.1million metric tons, and we hope this growth we be exponential," he added.
Osinbajo, who emphasised need to support the regional aquaculture industry described it as efficient employer of labour.
He stressed that as part of commitments from the Federal Government to support the fisheries committee, a sum of $200, 000 have been paid to the FCWC while the outstanding will be provided shortly.
In his opening remarks, Chairman of the conference, James Kollie identified need for participants to explore opportunities that will ensure priced fishery resources in the region enhances it's economic growth in a sustainable manner.
According to him, the potential of fishery goes beyond resources found in the maritime environment but reliable employer of labour.
Participants at the conference included representatives from Benin, Cote d' voire, Ghana, Liberia, Nigeria and Togo. Others are African Union, European Union and Economic Community of West Africa State (ECOWAS).