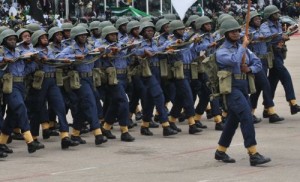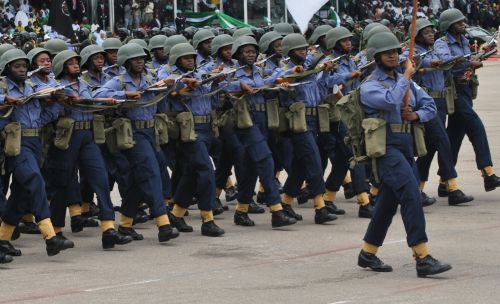 President Muhammadu Buhari on Monday directed the officers and men of the Nigerian Navy to continue to work hard to ensure safety on the nation's waterways.
He said it was important for them to ensure safety so that legitimate economic activities could hold on the waterways, therefore making the country to prosper.
Buhari handed down the directive when the Chief of Naval Staff, Ibok-Ete Ekwe Ibas, briefed him on the activities of his agency at the Presidential Villa, Abuja.
Ibas told State House correspondents of the outcome of the briefing after his encounter with the President.
"The President said we should continue to do that which will enable our country to prosper," Ibas said when he was asked about the specific directive given to him by the President.
The Naval chief disclosed that the organisation is working hard to contain cases of piracy on the nation's waterways.
He said a lot has been achieved in that regards.
He said, "On piracy, the assertion about the Gulf of Guinea being the most notorious water in this part of the world has been taken seriously.
"In the last one year, we have in place a dedicated task force there to address this challenge.
"The good news is that we have been there wherever they are and we have been able to challenge them.
"Incidences have reduced drastically and we intend to continue to dominate these areas. A lot is being done by the Navy to contain the menace of pirates."
He gave an insight into the presentation he made to the President, saying it has to do with the Navy's operations.
He also talked about the purpose of the Naval base established in the Lake Chad region.
Ibas said, "It is a routine that we brief the Commander-in-Chief from time to time. This was a special brief to update him on the state of security situation in the maritime environment where my operation takes place.
"We are glad that the security situation in the maritime environment has remained favourable to allow legitimate economic activities to take place.
"I also hinted him on the ongoing exercise that the Navy is conducting with other partners within the region and other international partners. It is aimed at building capacity and intelligence sharing.
"The Nigeria's new maritime strategy sees our activities going just beyond maritime environment. We have been part of the various joint task forces including the Lafiya Dole.
"The President approved the establishment of an operational base for the Navy in the Lake Chad area basically to help provide security there.
"Lake Chad is a strategic location that provides the transportation means for four nations. The Nigeria Navy's presence there is to help in consolidating on the security of that at area and facilitate economic activities to pick up.
"The presence of the Navy there will help to hasten the development efforts of the community."