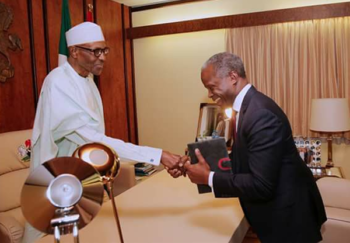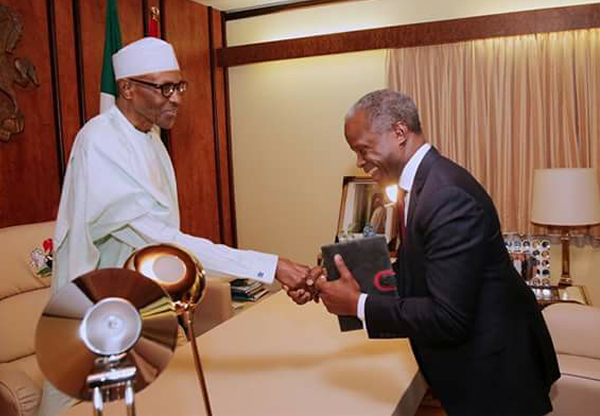 President Muhammadu Buhari on Friday praised his deputy, Professor Yemi Osinbajo, for leading the country while he was away on medical vacation.
The president, at a meeting with some state governors, then taunted protesters who gathered in London to demand his return to work or resignation.

"The effort by the vice president is commendable," Buhari said when he hosted governors on Friday. "He used his intellect to run all over the place. I was seeing him 24 hours on NTA."
Buhari returned to Nigeria last Saturday and returned to duties as president the following Monday. He had travelled to London, the United Kingdom, sinceMay 7 to treat an undisclosed ailment.
While the president was away, Osinbajo led Nigeria in acting capacity and earned praises for his strong leadership qualities.
"Our Acting President," said Simon Lalong, Plateau State Governor, at the meeting, "we must commend him."
"In the absence of the President, there was not vacuum because the Acting President filled in the gap and did his best up to this moment and showed absolute loyalty both to the nation and Mr President."
He however said since Buhari's return "everything is taking shape again."
"This is not to say the Acting President was not doing well."
The President also extended appreciation to Nigerians who prayed for his recovery.
"I'm very happy with the national prayers. It was very covered and reported, across religions and ethnicity, (that) people were praying (for my recovery)," he said.
He said his morale had been "raised greatly" by the "love shown to him".
Buhari spent 104 days in London. Before his arrival, there had been protests in Abuja and London, asking him to return to work as Nigeria's president or resign. He also noted this today, subtly mocking Nigerians, who staged protest at the Abuja House where he stayed in London.
He said, "In fact some groups in London came and sang the national anthem and asked that I should go back home. Indeed, I have come back home. I hope those who went there are not stuck there…those that are stuck there with the Brexit, I hope they have weighed the implications that it won't affect them, including those that have properties there, those who are not paying tax there.
"I hope when they sell their properties, there they will bring some of the money here. We need it very badly here."
Buhari praised the governors for "doing (best) best in agriculture and solid minerals. "I am very pleased with the states," he said.
Also speaking at the meeting with the president, the Kogi State Governor, Yahaya Bello, who declared public holiday in his state to mark the president's return, said, "We thank the good people of Nigeria and those outside the country who stood firm behind Mr. President and the country.
"Our president went to take care of his heath and now he is back healthy and healthier than before. We are here to appreciate him. We thank Almighty God that he is back safely. We equally thank his able lieutenant, Professor Yemi Osinbajo who held the country firm in his absence."  
Copyright Ships & Ports Ltd. Permission to use quotations from this article is granted subject to appropriate credit given to www.shipsandports.com.ng as the source.