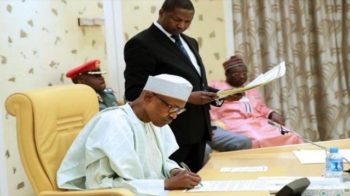 President Muhammadu Buhari has signed an agreement with the United Arab Emirates (UAE) that will strengthen Nigeria's war against corruption.
By this treaty, Nigeria will be able to extradite and prosecute its citizens who launder ill-gotten wealth in the UAE.
The president also signed agreements with other countries that would improve the security in the country and stabilise the economy.
Speaking at the signing ceremony at the state house on Thursday, Buhari said, "It is my hope that these instruments will reinvigorate the anti-corruption war and check the illicit flow of funds out of our country to other jurisdictions, improve national security, food security, boost our economic and tax regimes and improve the overall well-being of our creative community."
The president said the signing of the agreements was an important milestone in demonstrating the sovereign capacity of fulfilling the country's international obligations and take important steps for the benefit of the economy, security and the anti-corruption war.
Buhari said the full implementation of the agreements had been delayed due to the need by both sides to conclude their respective ratification processes.
"I am happy to note therefore, that pursuant to a Memorandum presented to the federal executive council by the honourable attorney-general of the federation and minister of justice, council has approved the ratification of the said agreements," he said.
"I am delighted to perform today, the duty of executing Instruments of Ratification of certain Agreements on behalf of the Federal Republic of Nigeria, pursuant to the powers conferred on me by Section 5(1) (a) and (b) of the Constitution of the Federal Republic of Nigeria 1999 (as amended) and Article 7 of the Vienna Convention on the law of treaties of 1969.
"With this sovereign act, which has been replicated in the United Arab Emirates by their responsible authorities, we are now in a position to utilise these agreements fully to foster cooperation between our respective authorities particularly for the purpose of prosecuting the anti-corruption campaign of this government.
The signed agreements are; agreement on mutual legal assistance in criminal matters, agreement on mutual legal assistance in civil and commercial matters, agreement on the transfer of sentenced persons and an extradition treaty.
Others are charter for the Lake Chad basin between Nigeria, Cameroon, Central African Republic, Libya, Niger and the Republic of Chad; African tax administration forum agreement on mutual assistance in tax matters and world intellectual property organisation performances and phonograms treaty.
Also signed were agreements on the world intellectual property organisation treaty on audiovisual performances and the Marrakesh treaty to facilitate access to published works for persons who are blind, visually impaired or otherwise.
Copyright Ships & Ports Ltd. Permission to use quotations from this article is granted subject to appropriate credit given to www.shipsandports.com.ng as the source.